Gold Prices Jump $50 as Trump Vows $850bn to 'Kill The Virus'
Tuesday, 3/17/2020 15:40
GOLD PRICES jumped $50 inside 2 hours Tuesday, regaining all of yesterday's fresh losses to trade at $1530 per ounce after the Trump administration said it's seeking $850 billion of emergency stimulus to try offsetting the recessionary force of the global virus pandemic.
Gold gained even as US Treasury bond yields jumped, snapping the usual pattern of moving inversely to borrowing costs.
Silver and
platinum prices
also bounced on Trump's announcement, rallying by 9% from 11-year lows and 21% from 17-year lows respectively.
"Federal Government is working very well with the Governors and State officials," said the US President and former reality TV star on Twitter after declaring a state of emergency.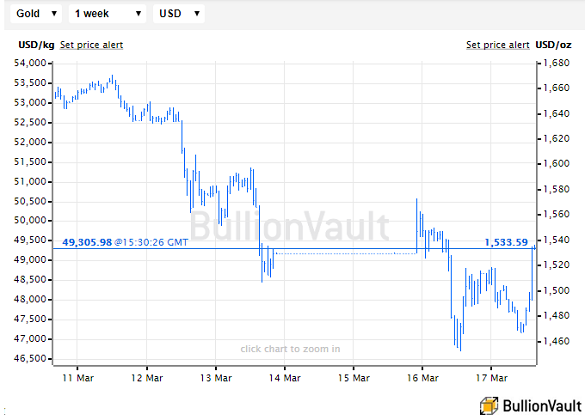 Western stock markets whipped violently yet again, turning a prior loss into a 2% gain across European bourses as New York jumped nearly 4% at the open despite the fast-widening shutdown of economic activity worldwide, aimed at stemming the spread of the novel coronavirus.
The European Union at midday shut its external borders to all but commercial traffic, while national borders were re-instated by members including Germany and France, the first such restrictions on free movement inside the world's second largest economic bloc since 1995.
India closed all schools and colleges for 2 weeks, while Iran – third worst hit after China and Italy – said it has now released 85,000 non-violent prisoners from jail to slow the spread among large groups.
Turkey became the 15th central bank to
cut interest rates so far this week
, lopping 1 percentage point off its key lending rate and taking the cost of borrowing well below the latest pace of inflation in the world's No.5 gold consumer nation.
"The markets were not impressed," says Rhona O'Connell at brokerage INTL FCStone, pointing to yesterday's plunge in equities after Sunday's extraordinary rate cut and new QE announcement from the US Federal Reserve.
"The Fed's moves are seen in some quarters as panic. The rampant uncertainty in the markets means that central banks [have failed in] than providing immediate relief."
"The Fed and other central banks can counter liquidity issues," agrees Nicky Shiels at Canadian bullion bank Scotia, "but [they] certainly now have a harder time countering/controlling equity market risks, volatility and credit.
"Statement fiscal stimulus is required to promote the velocity required to stem an expected deeper slowdown/recession."
Led by a cut to payrolls tax, the Trump White House's Treasury Secretary Steven Mnuchin will ask Senate Republicans to
start backing a $850bn stimulus
later today, setting aside $50bn to help the airline industry.
Shares in plane-maker Boeing Co. (NYSE: BA) meantime sank a further 14%, taking its stock down by more than three-quarters from this time last year to the lowest since 2016.
Here in the UK meantime, and in a series of what state broadcaster the BBC insisted on
calling "restrictions" and "measures"
, the UK Government said "everyone should avoid" pubs, clubs and theatres, working from home if they can, not visiting the elderly unless necessary, using the National Health Service only "where [they] really need to", and staying at home for 14 days if anyone in their household shows symptoms.
Chinese state media meantime showed medical staff from Qinghai being
cheered by colleagues as they left
for the 1,750-kilometer journey home after helping treat victims of Covid-19 in its source city of Wuhan, Hubei province.