Gold in Yen Breaks 40 Year Record Joining Major Currencies Starting Week with Record Highs as Diplomatic Ties Between China & US Worsen
Monday, 7/27/2020 14:28
GOLD PRICES in US Dollars broke above the 2011 peak and ran to a series of new all-time highs Monday morning as worsening diplomatic ties between China and the United States coincided with the Dollar falling to 2-year lows on the currency market plus sharp increases in new Covid-19 cases around the world, writes Atsuko Whitehouse at BullionVault.
Gold prices also rose to yet more record highs in British Pounds, Euros, Chinese Yuan, Indian Rupees and most other currencies too.
Gold in Japanese Yen, the last major currency to see new all-time highs, also reached a fresh record at ¥6,594 per gram Monday morning, breaking the previous record reached 40 years ago.
Dollar spot prices for physical gold settled in London climbed 2.4% to $1945 per ounce Monday lunch-time.
Gold has now jumped by more than a quarter this year, while major world stock indices – other than the tech-heavy Nasdaq in New York – have struggled to make positive returns year-to-date.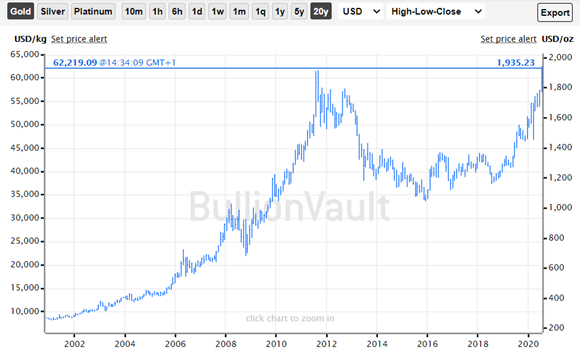 Gold for UK investors set new records for the second trading day in succession, peaking at £1514 per ounce.
Gold prices in Euro terms also reached new all-time highs at €1660 per ounce.
"Clearly the US Dollar is really being questioned very openly. The question is: If you're negative the Dollar what are you positive on?" said Robert Rennie, global head of market strategy at Westpac.
"Gold is the one asset market that is really reflecting heightened risks from rising geopolitical tensions."
Tension between the US and China was heightened at the weekend by the arrest of a Chinese researcher who American authorities said had been hiding in the country's San Francisco consulate. Washington has alleged that the researcher is a member of the Chinese military.
The case comes after Washington ordered China to shut its consulate in Houston, Texas following claims by the Trump administration that it was at the centre of a nationwide spy network stretching to more than 25 cities.
Chinese authorities have meatime taken over the US consulate general in Chengdu Monday morning, marking the diplomatic mission's official closure and a new low point in ties between the world's largest economies.
Staying at China, the metal's No.1 consumer market, gold prices in Yuan made a new record high for the 4th consecutive session on Monday at ¥426.77 per gram. But prices on the Shanghai Gold Exchange continued to show a historic discount to London quotes, now running at $38 per ounce and widening from last week's average of $33 as local supply continues to overwhelm demand.
The US meantime reported a total of 62,000 new coronavirus cases for Sunday, with states including Florida, Tennessee and Arizona recording the highest number of new cases per million people.
China and Spain have also been hit again, and Hong Kong will ban gatherings of more than two people, but the epidemic in India is now the fastest growing in the world, with cases increasing 20% to 1.4 million over the past week.
"The latest (gold) move is being driven by the Covid outbreaks we are seeing in the US, and the realisation that the recovery is going to be longer and harder than many people were expecting a few weeks ago," said Joe Foster, fund manager at VanEck in
New York
.
"The US Dollar is also weak and silver has broken out, so that probably tells you some speculative money has come into the market."
Silver prices jumped 8% to $24.58 Monday lunch time. It renewed its 7 year high, after surging 17% last week and gaining 36% this year, recovering astonishing 111% from 11 year low in March.
The strength of silver pushed the
Gold/Silver Ratio
– which tracks the two formerly monetary metals' relative prices – down further to just under 81, the lowest value for gold versus silver in 2 years.