Gold Prices Extend Bounce After Comex Bears Return, Global Politics and Growth 'Unpredictable'
Thursday, 11/14/2019 14:28
GOLD PRICES touched the highest in a week in London trade Thursday, rallying $25 per ounce from Tuesday's new 3-month low as stock markets outside the United States slipped further from last week's multi-year peak following weak global economic data.
Both new and ongoing claims for jobless benefits in the US showed a surprise jump for last week.
UK retail sales showed a drop for October from September, defying analyst forecasts for the pre-Brexit boom to accelerate.
US stock futures pointed lower from last night's new record highs.
Hit New Stock Market record again yesterday, the 20th time this year, with GREAT potential for the future. USA is where the action is. Companies and jobs are coming back like never before!

— Donald J. Trump (@realDonaldTrump) November 14, 2019
Gold's steep drop starting a week ago probably coincided with liquidation of bullish bets by speculators in Comex futures and options says John Reade, market strategist at the mining-industry backed World Gold Council.
Latest available data, from the first week of November, showed bearish betting by hedge funds and other 'Managed Money' players still totaled 16% less than its historic average, and it was barely one-third the 2019's average size before the
Federal Reserve vowed to support US economic growth
in early June, crushing expectations for more rate hikes and spurring a collapse of longer-term interest rates.
Weekly positioning data for Comex gold futures and options as of this Tuesday will be released by US regulator the CFTC tomorrow.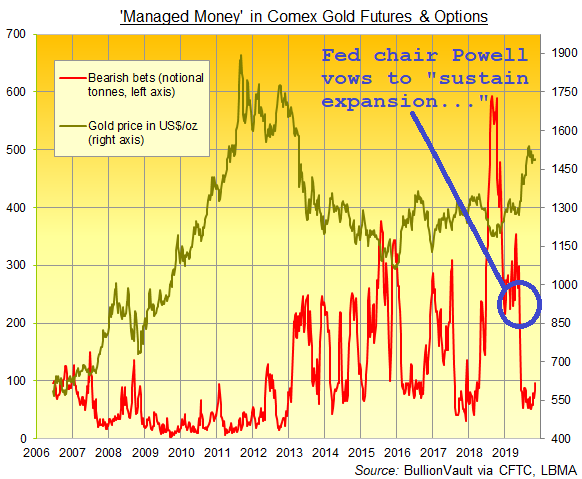 Back in Thursday's action, major government bond prices also rose as Asian and European stock markets slipped, taking 10-year US Treasury yields down to 1-week lows at 1.84%.
Gold prices sank last week as the 10-year spiked to 1.94% by Friday's finish, up steeply from end-August's near-record lows beneath 1.50%.
With Dollar gold prices touching $1470 on Thursday morning, the bullion price in Euro terms also rallied, hitting €1335 to trade 1.8% above Monday's 3-month low at what was a 7-year high when first reached in August.
Premiums for gold landed in No.1 consumer nation China meantime "remained soft" Thursday, says the daily note from Swiss refiners MKS Pamp, slipping near $3 per ounce – barely one-third the typical incentive for new imports – "[so] there was limited demand seen on that front."
Shanghai's stock market edged higher but Hong Kong – where protesters and police marked a fourth day of running battles – fell with Tokyo and the wider region.
"In an unpredictable environment, growth and credit risks are tilted to the downside," said credit ratings agency Moody's earlier this week,
downgrading its overall view for 2020
on the 142 countries and their $63.2 trillion of sovereign debt it tracks to "negative" from "stable".
"Unpredictable politics create an unpredictable economic and financial environment."
With the UK's snap general election campaign now well underway, gold priced in Sterling meantime held Thursday at last weekend's level after climbing 1.6% from Monday's new 4-month low of £1125 per ounce.
Economic growth across the 19-nation Eurozone – the single largest bloc worldwide – held at 1.2% per year in Q3, a
release from Eurostat said
, behind the United States' 2.0% pace but ahead of the UK's slowdown to 1.0%, the weakest since the global financial crisis of 2009.
Spain grew 2.0% and France expanded by 1.3%, but Italy's GDP rose only 0.3% per year, behind Germany's 0.5% annual rise.