Gold Price Steady as 4/5th of Major Bonds Offer Negative Real Yield, US Reports 'Good Talks' on Trade Deal
Monday, 11/04/2019 14:54
GOLD PRICES edged lower Monday as world stock market extended last week's new all-time highs on Wall Street amid optimism over a US-China trade deal and a delay to US tariffs on European goods, writes Atsuko Whitehouse at BullionVault.
The Asean summit of Asian leaders meantime
agreed in principle
to what would be the world's largest free-trade area, but India stood aside for now.
Gold prices slipped 0.3% from Friday's finish – the highest weekly close in 6 – to trade at $1509 per ounce as the US Dollar steadied from 5 consecutive days of slipping.
China's Foreign Ministry said on Monday that Beijing's President Xi Jinping and US President Donald Trump have been in continuous touch through "various means", supporting Trump's claim that a long-awaited trade agreement may be sight.
Major government bond prices edged back, pushing longer-term interest rates higher.
"One of the key drivers of gold, especially in the short and medium term, is the opportunity cost of holding it," says the mining-industry backed
World Gold Council in a new analysis
.
"Unlike bonds, gold does not pay interest or dividends because it does not have credit risk. This lack of yield can deter investors.
"But in an environment where 26% of developed market sovereign debt is trading with negative nominal rates and – once adjusted for inflation – a whopping 82% trades with negative real rates, the opportunity cost of gold almost goes away, even providing what can be seen as a positive 'cost of carry' relative to sovereign bonds."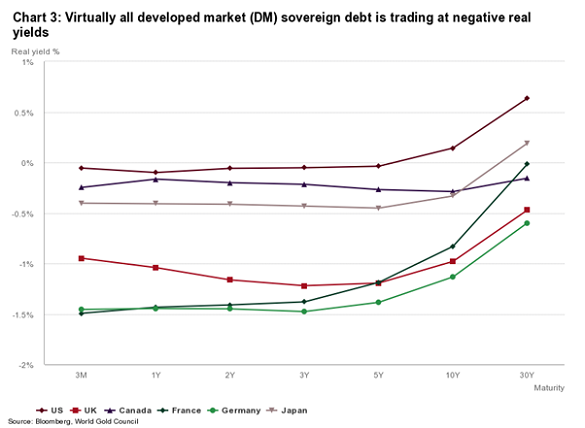 European stocks markets climbed Monday near a 2-year high after New York's S&P 500 struck yet another record at Friday's close after
strong jobs data defied predictions
that slower manufacturing growth would stunt the economy.
Gold prices for European investors rallied to €1355 as the Euro currency edged back but kept near its highest level in 12 weeks ahead of former IMF director Christine Lagarde's first speech as European Central Bank president later today.
"Good conversations" between Washington and Brussels, reported by Trump's commerce secretary Wilbur Ross, mean that the US may not hit European car imports with trade tariffs as previously said.
The UK gold price in Pounds per ounce
meantime edged back to £1169 as Sterling held at the top of its recent trading range on the FX market ahead of next month's snap General Election, called by Prime Minister Boris Johnson to try and resolve Brexit more than 3 years after Vote Leave secured a 51.9% to 48.1% majority in the 2016 referendum.
The Times
newspaper's poll tracker suggests that
the Conservatives will emerge
as the biggest party, with the anti-Brexit Liberal Democrats not far behind the opposition Labour Party.
Oil prices crept higher Monday, with Brent reaching its highest in more than a month from the growing expectations of A US-China trade deal and Iran flagging OPEC discussion of a deeper output cut next month while Saudi Aramco, Saudi Arabia's giant state oil company, finally kick-started the world's biggest initial public offering (IPO) on Sunday.
Silver meantime edged higher with gold prices against the Dollar, reaching $18.14 per ounce, while platinum was also up 0.3% at $952 per ounce.