Gold Price Drops with Stocks as Covid Crisis Worsens, Inflation Stalls, Financial Trouble 'Not Even Started'
Tuesday, 10/13/2020 14:32
GOLD PRICES gave back an earlier $10 rally to the $1920 mark in US Dollars – the metal's previous record high from 2011 – in London trade Tuesday as European stock markets slipped amid worsening news on the second wave of Coronavirus and new US data said inflation is failing to rise in the world's largest economy.
Better-than-expected quarterly reports from US finance giants J.P.Morgan (NYSE: JPM), Citigroup (NYSE: C) and Blackrock (NYSE: BLK) meantime failed to stem a drop in New York futures ahead of the opening bell after the weak inflation data.
Excluding food and fuel, the
core US Consumer Price Index
rose 1.7% per year in September, unchanged from August's pace and below Wall Street's consensus forecast of 1.8%.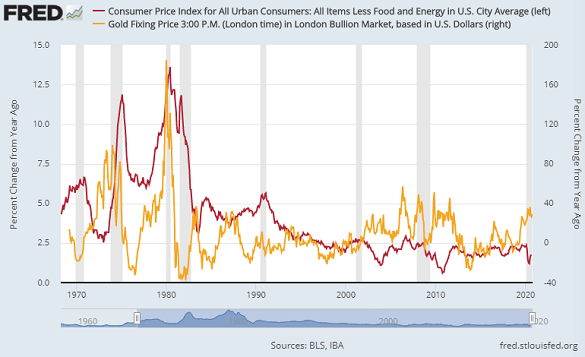 Newly released documents in London meantime showed that the UK government
adopted only 1 of 4 urgent measures
recommended by its SAGE advisors last month, while France's tourism minister today
urged people to book travel
for the All Saints' Day holidays around 1 November despite President Macron warning of tighter restrictions to fight the country's second wave.
"We haven't even hit the financial crisis yet,
everyone is still doing the health crisis
," said Bill Beament, executive chairman of Australia's No.2 gold mining company Northern Star (ASX: NST), at the opening of the Diggers and Dealers conference in Kalgoorlie on Monday.
"Wait until we come out of the back end and have the financial crisis, it's going to hit when the [government support] taps all get turned off, they have to get turned off.
"That's when you'll see, I think, gold even kick again."
New data today confirmed the deepest annual deflation in Germany's consumer prices since early 2015 at 0.2% for September, while UK unemployment jumped to a 3-year high for August, with redundancies rising at their fastest pace since the depths of the financial crisis in 2009.
Back in the US, "Investors are watching the opinion polls," says the
New York Times
of the impending White House election, and with Democrat Joe Biden apparently leading incumbent president Donald Trump as the S&P500 index closed last night with its second-highest reading ever, "they
seem to like what they see
."
"There's still plenty of volatility as we head towards the US election," Reuters quotes an analyst at Bank of China International, "but over the medium-term, monetary stimulus that's already in the system
will take a long time to be withdrawn
and that's supportive for gold."
"Lockdowns are killing countries all over the world," said US President Trump, now back on the campaign trail after testing positive for Covid-19 two weeks ago, at a rally Monday night where he threw face masks into the crowd while not wearing one himself, claiming to feel "powerful".
A fresh rally in the Yuan saw Shanghai gold prices drop 0.5% today from Monday's 3-week high, but the discount to London quotes – while continuing to show weak demand vs. ample supply in the metal's No.1 consumer market – firmed at a little less than $40 per ounce.
Today's Dollar-price drop to $1908 following the US inflation data saw Euro and
UK gold prices in Pounds per ounce
also erase their earlier rallies from an overnight drop in Asian trade, slipping to €1618 and £1466 respectively.