China Gold Demand +10% But India 'Offers Little Support' as Price Slips vs Weaker-Still Dollar
Wednesday, 8/02/2017 14:24
GOLD PRICES slipped $5 per ounce from last Friday's 8-week closing highs against the Dollar in Asian and London trade on Wednesday before new data said the US economy added fewer jobs than expected in July.
With the Dollar gold price bouncing from $1265, non-US currency prices fell harder however, touching 1-week lows for UK investors and hitting near 2-week lows against the Euro as the Dollar extended its slide to new 15-month lows versus the world's other major currencies.
Preceding Friday's official non-farm payrolls estimate, today's private-sector ADP report said the US employers added 173,000 jobs last month, the weakest July growth since 2013.
"Volumes remain fairly light across all precious metals over the past few sessions as we sail deeper into the summer doldrums," said Wednesday's Asian trading note from Swiss refiners and finance group MKS.
"Opportunistic sellers still linger on rallies and cap moves higher, edging the yellow metal lower."
On the forex market today the Euro hit a new 133-week high against the Dollar above $1.1850 and the British Pound rose to its strongest in 43 weeks near $1.3250,
despite new data
showing the weakest UK construction-sector activity in 11 months during July.
India's Rupee had earlier
hit 2-year highs
ahead of the Reserve Bank's widely expected decision to cut interest rates across the world's No.2 gold consumer nation to the lowest level since 2010 at 6.0%.
That saw Rupee gold prices fall to 2-week lows on MCX futures contracts.
"Given the introduction of the GST [sales tax on physical gold] in India there is a relative hiatus in imports to that crucial market at present," said last week's first-half 2017 update from precious metal analysts Thomson Reuters GFMS, "and this is leaving gold prices susceptible to softness.
"Not least [this is because] it is often Indian demand that responds positively to price weakness."
Having popped back to a brief premium as consumers brought forward demand ahead of 1 July's new sales tax, retail gold prices in India last week fell to the
widest discount below London quotes in 7 months
, according to Reuters, equal to $4 per ounce after accounting for India's 10% import duty.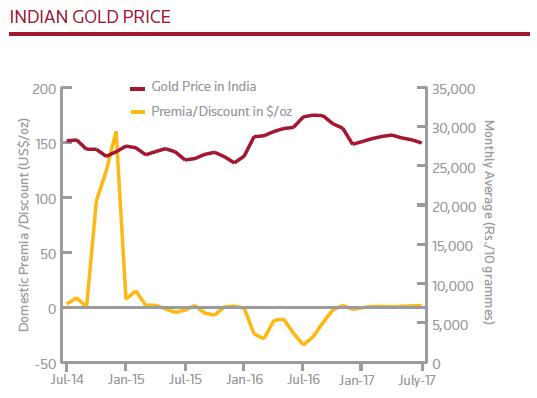 Gold demand in No.1 consumer China rose almost 10% year-on-year in the first-half of 2017, new data from Beijing-backed trade body the China Gold Association said Friday, driven by investment purchases.
Speaking at an industry conference in Shanghai, vice-chair Zhang Yongtao said Chinese demand for jewelry was virtually unchanged between January and June, but demand for gold bars jumped by 51%, cannibalizing some coin demand, which fell 61% from the same period last year.
Trading volume on the Shanghai Gold Exchange – the only legal route for gold bullion into private circulation – slipped 4.6% from the first-half of 2016, said Zhang.
Turnover in Shanghai Futures Exchange contracts sank by almost 48%.
Premiums for Shanghai bullion at today's
SGE gold price benchmarking
fell to their lowest level compared to London bullion quotes since April at barely $6 per ounce, one-third below the typical incentive offered to new imports.