Gold Hits 8-Year GBP Price High as UK Output Shrinks Ahead of Brexit, US Jobs Miss Forecast
Wednesday, 7/03/2019 14:23
GOLD PRICES rose against all major currencies yet again on Wednesday, touching new 6-year highs in Euros and setting the highest UK Pound price since the very peak of September 2011 as global data said economic weakness is worsening.
Priced in the US Dollar, gold tried and then fell hard from testing last week's new 6-year high of $1438 per ounce in London on Wednesday, retreating to $1415 but holding onto yesterday's dramatic 2.4% surge.
Euro gold meantime touched €1271, up 2.5% for the week so far, after national leaders from the European Union's current 28-member states agreed nominations for the economic bloc's top political posts.
Both Japan and China – the world's third and second largest national economies – saw activity-growth in the services sector slow badly in June according to new PMI surveys.
June's new US jobs growth then came in more than 25% below Wall Street forecasts on the private ADP Payrolls estimate.
"Gold had an impressive rally yesterday," says today's Asian gold trading note from Swiss refiners and finance group MKS Pamp, "in line with softer US Treasury yields."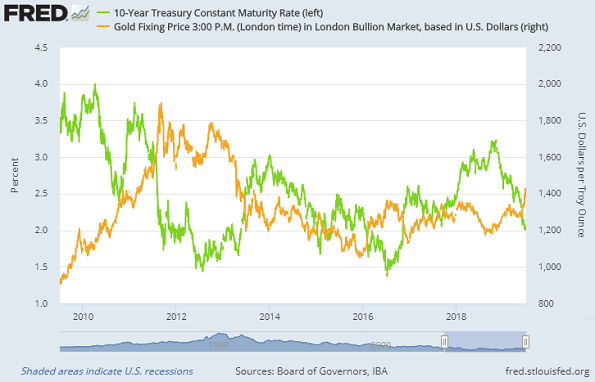 Ten-year US yields fell further to new 2016 lows on Wednesday as the price of government bonds rose, pushing Germany's 10-year Bund yield down to new record negative lows of -0.38% and slashing
Italy's borrowing costs
to the lowest since end-2017 at 1.7%, less than half last year's peak, after news of the EU summit's central-bank selection.
Moreover, MKS adds, "President Trump is to nominate two economists to fill vacancies on the Fed board, one of whom,
July Shelton
, is...an advocate for a return to the gold standard."
Unlike in Asia, services growth rose last month in the 19-nation Eurozone – the world's second-largest currency bloc after the USA – but it slowed near no growth in world No.5 economy the UK.
The Pound fell hard on the currency market on what one economic pundit called these "alarming signs of a sharp slowdown, possibly even recession."
The UK gold price in Pounds per ounce
shot within 35 pence of £1140 – its highest since September 2011 marked all-time record highs at £1194 – before retreating £10 per ounce by lunchtime in London.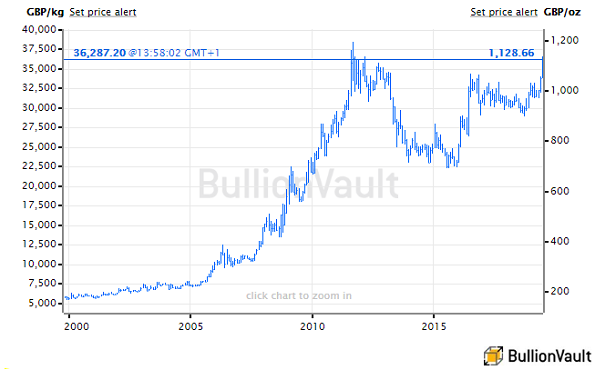 With stockpiling ahead of March's missed Brexit deadline now leaving UK warehouses with
"no available space"
according to the sector's trade association, planning for the current date of 31 October is "more difficult" because
supply-chains will be full
of Christmas stock warns Dave Lewis, CEO of No.1 UK supermarket Tesco.
Tuesday's "tortuous summit" in Brussels ended with German Defense Minister Ursula von der Leyen – formerly seen as a potential challenger to as Chancellor Angela Merkel's chosen CDU successor Annegret Kramp-Karrenbauer – picked to replace Jean-Claude Juncker as the next European Commission President.
Eurozone central-bank chief Mario Draghi will meantime be succeeded by former French economy minister and current IMF managing director Christine Lagarde, formerly spoken of as a potential challenger to President of France Emmanuel Macron.
"Comex remains whippy," says one bullion dealing desk as trading volumes in futures and options contracts, betting on the direction of gold prices,
continue to hold strong
.
Silver prices meantime lagged gold yet again on Wednesday, keeping the Gold/Silver Ratio of the two formerly monetary metals at its highest since the all-time peak of the early 1990s above 92.
Platinum edged higher, but held $10 per ounce below Tuesday's early spike to 7-week highs at $847.