Gold Prices Slip Despite Bond Yields Falling Amid 'Trade War' and 'Populist' Victory in European Elections
Tuesday, 5/28/2019 13:45
GOLD PRICES fell as London and New York re-opened for business after the long Whit Bank Holiday and Memorial Day weekends on Tuesday, erasing last week's gains for US Dollar and Euro investors after so-called 'populist' parties won the 2019 European Parliamentary elections in France, the UK and Italy but secured a lower share of the vote in Germany and the Netherlands.
Turn-out across the 28 member states set a quarter-century record at more than 50% of the electorate.
Gold prices dropped $5 per ounce to $1277 as Western stock markets fell and major government bond prices rose, pulling 10-year US Treasury yields below 2.3% for the first time since October.
But Italy's public borrowing costs continued to rise, with shares in Italy's banking sector
extending Monday's 1.3% loss
as the gap between Rome and Berlin's bond yields rose to 2.9 percentage points, the widest
spread on BTPs over Bunds
since mid-May's 3-month high.
The Euro currency edged higher Tuesday after new survey showed
a drop in consumer and industrial negativity
on the 19-nation economy, plus the fastest private-sector loan growth since the global economic slump of 2009 in April, up 3.4% from the same time last year.
Euro gold prices fell €5 back to €1141, and
the UK gold price in Pounds per ounce
retreated 0.7% from a new 3-month high of £1016 hit overnight as Sterling continued to fall amid London's political uncertainty.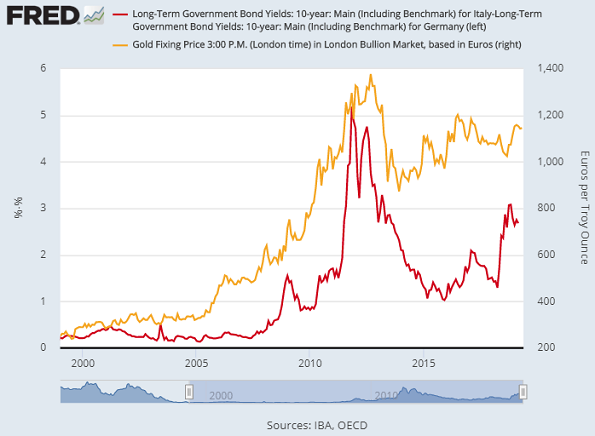 "The gold market is clearly lacking direction at the moment," Reuters quotes analyst Carsten Menke at Swiss bank Julius Baer.
"There is uncertainty in financial markets, which is positive for gold. At the same time, the gold market continues to face headwinds from a stronger US Dollar."
Heavy exporter
Japan doesn't foresee a "quick" trade deal
with Washington, its economy minister Toshimitsu Motegi said overnight, responding to President Trump claiming an agreement will "probably" come in August.
Confirming what the
SCMP
newspaper
reported early this month
, imports into the US from Vietnam have leapt as Chinese trade has fallen, up 40% in the first 3 months of the year and "potentially [set to] overtake the UK...if it keeps up that pace" according to Bloomberg.
"Despite these trade tensions," says Menke at Julius Baer, "gold is not attracting any safe-haven flows at the moment."
The giant SPDR Gold Trust (NYSEArca: GLD) closed Friday with 0.3% week-on-week growth in the number of shares in issue, but gold-backed ETFs traded in New York
have shrunk so far this month
.
"We
aren't looking for regime change
[in Iran]...just no nuclear weapons," said Trump meantime during his visit to Tokyo, a position lambasted by Tehran because "long ago" Iran's Supreme Leader Ayatollah Ali Khamenei "said we're not seeking nuclear weapons...issuing a fatwa banning them" according to foreign minister Mohammad Javad Zarif.
Led by Italy's deputy prime minister Matteo Salvini, the Lega Party took 34% of the country's Euro elections vote, jumping from 6% in 2014 and
using a strong social media campaign
to reverse last year's national election defeat by domestic coalition partners the Five Star Movement (M5s).
Having campaigned under the banner "Italy first!" and accompanied by the refrain of "I will win!" from Puccini's aria
Nessun Dorma
, "It is the sign of a changing Europe, tired of the strong powers, of the elites," said Salvini yesterday of the 'populist' victories in Italy, France and the UK while
kissing a crucifix and thanking the Virgin Mary
for his success.
"The true motto of the Christian is,
'The last shall be first!'
," said Pope Francis on Monday, looking ahead to September's World Day of Migrants and Refugees and warning that "the most economically advanced societies are witnessing a growing trend towards extreme individualism.
"The signs of meanness we see around us heighten our fear of 'the other', the unknown, the marginalized, the foreigner...making us intolerant, closed and perhaps even – without realizing it – racist."
Winning 24% of the vote in France, just ahead of President Macron's La République En Marche! party, Marine Le Pen's renamed National Rally Party – formerly the Front National – will face a French court in November over allegations it broke campaign finance rules.
Nigel Farage's new UK Brexit Party, registered only 16 weeks ago and allied with Italy's anti-establishment M5s in the European Parliament, took 32% of the UK vote, winning in 9 of the country's 12 regions and beating the 30% shared between the pro-Remain LibDems and Green Party.
Securing less than 9%, the UK's ruling Conservative Party
now has 11 candidates vying
to replace Theresa May as leader and therefore Prime Minister after she steps down on Friday, 7 June.