Gold Price 'Lacks Drivers' Even as Dollar Slips Ahead of Fed Amid Weak China, Stronger Euro Data
Tuesday, 4/30/2019 13:44
GOLD PRICES held firm against a falling US Dollar in London trade Tuesday but dropped back for UK and Euro investors as better-than-expected European data contrasted with surprise weakness in China's manufacturing activity.
Betting on tomorrow's Federal Reserve interest-rate decision meantime put
just a 2.0% chance
on the Fed cutting US Dollar interest rates, down from 6.0% this time last month with all other betting still predicting no change.
Both the official NBS and private-sector Caixin PMI surveys came in with a reading barely above 50.0, the level which would signal zero growth in China's manufacturing sector.
Eurozone GDP growth just beat analyst forecasts in contrast,
edging up to 1.2% annualized
for Q1 2019 as the 19-nation currency union's jobless rate ticked down to 7.7%, the lowest reading since September 2008.
Euro gold prices slipped to €1144 per ounce, marking a 0.6% drop for April and showing a 2nd monthly decline after rising 5 months running from September's 2.5-year low.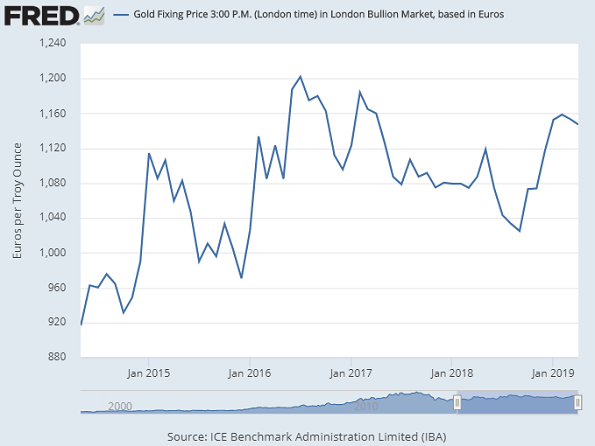 Despite Tuesday's data, Asian and European stock markets held flat overall, failing again to gain after New York's S&P500 and Nasdaq stock indices closed at fresh all-time record highs overnight.
With new US data yesterday showing consumer spending jumping at the fastest pace since 2009, "The economy
is in a sweet spot for now
with not enough inflation to cause the Fed to raise rates, and with inflation not low enough to worry Fed officials that economic demand is weakening, which could require rate cuts," reckons economist Chris Rupkey at Japanese financial group MUFG in New York.
"We do not recommend establishing length at current levels on gold," says US brokerage INTL FC Stone's analyst Ed Meir, pointing to "the lack of upside drivers.
"Although the Dollar is not moving higher on the back of strong macro readings, it is not coming down either; neither are the US long-term rates."
Ten-year US Treasury yields edged higher again Tuesday, rising to 2.55% from end-March's level of 2.41%.
Dollar gold prices have meantime slipped $10 per ounce to $1285.
Silver prices today held just shy of $15 per ounce, down 0.8% for April, while platinum traded at $895 – up 5.3% for the month in stark contrast to sister-metal palladium, which added
another 1.0% drop to March's 10% slump
.