Gold Price Slips as Bank of Japan Fights Covid Deflation with Limitless QE
Monday, 4/27/2020 14:42
GOLD PRICES dipped Monday while global stock markets gained as the Bank of Japan stepped up its coronavirus stimulus and a number of governments worldwide made small steps in easing their lockdown on social and economic activity, writes Atsuko Whitehouse at BullionVault.
Spot gold fell 0.7% to $1716 per ounce after gaining 2.7% last week, while the US Dollar Index – a measure of the US currency's value versus its major peers – inched lower, but hovered close to a near three-week peak it touched on Friday.
The Bank of Japan announced on Monday it will buy unlimited amounts of government bonds, removing its previous target of ¥80 trillion per year.
Central bank of the world's 3rd largest national economy, the BoJ will also quadruple its purchases of corporate and commercial debt to ¥20 trillion, and eased rules for what debt would qualify.
The Bank of Japan, which already had the largest balance sheet among the Federal Reserve, the European Central Bank and the Bank of England (as a share of nominal GDP) increased its assets further during 1Q 2020, adding more than ¥30 trillion (around $278bn) of bonds, stocks and other assets.
"The return of deflation, [meaning] continuously falling prices, is
not something we see
," said BoJ governor Haruhiko Kuroda.
"[But] short-term expectations of inflation have fallen quite a lot while longer-term expectations have fallen a little and we need to keep an eye on that."
The Federal Reserve and European Central Bank are both due to announce policy decisions on Wednesday and Thursday respectively.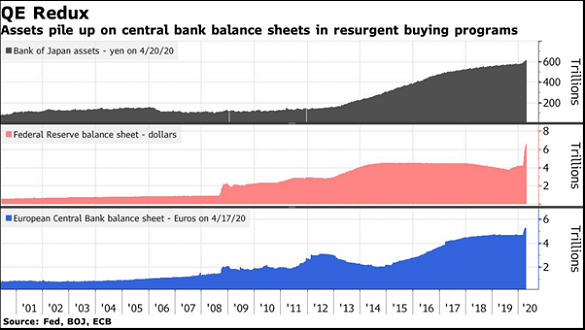 "Deflation is bullish gold ONLY if paired with (convincing) massive monetary stimulus AND the fear of future inflation," says the latest bullion-market note from Canadian financial services group Scotiabank.
The pan-European Stoxx 600 climbed 1.8% Monday lunch time, as all sectors and major bourses entered positive territory after the MSCI Asia Pacific Index gained 1.9% while Japan's Topix index closed 1.8% higher.
Gold prices for European investors declined 1.9% to €1582 per ounce from the historical high of €1612 recorded last session as Euro strength against US dollar amid the ECB is under pressure to expand its Pandemic Emergency Purchase Program (PEPP), which is currently limited to €750 billion.
European Union leaders have agreed to prepare a recovery funds to help its member states salvage their economies, but details of the plan have yet to be worked out last week.
UK gold prices also fell, down 1.8% to £1381 per ounce from last week's new records, as Prime minister Bris Johnson returned to work but warned against leaving lockdown too early.
New York Governor Andrew Cuomo meantime announced phased plan to reopen the city as its death toll in Covid-19's US epicenter dropped to the lowest in almost a month.
The phased-in reopening could start as soon as 15th May.
Silver prices
were meantime hovering sideways at $15.22 per ounce while platinum dropped 1.4% to $ 765 per ounce.