Gold Price Retreats from 3-Week High as Trump Offsets Fed for Stock Market
Thursday, 3/21/2019 14:29
GOLD PRICES retreated from 3-week highs in most major currencies on Thursday, trading at $1312 per ounce in London's wholesale market after new data said jobless benefit claims in the United States were smaller than forecast last week.
The US Federal Reserve said yesterday it won't raise interest rates any time soon, but US President Trump said he might impose tariffs on Chinese goods for a "substantial period".
UK Prime Minister Theresa May meantime went to Brussels to ask the EU for a delay to next Friday's Brexit.
Some 4-in-5 out of 300 UK businesses surveyed this month say they are now "ready" for a "no deal, no transition" exit from the European Union,
according to the Bank of England
.
The Bank today kept its key interest rate on hold at 0.75%, saying that the economic outlook "will...depend significantly on the nature and timing of EU withdrawal."
The US Federal Reserve also kept its key interest rate unchanged at its March meeting yesterday, and also forecast little-to-no change from that 2.5% rate through 2021.
Fed chairman Jerome Powell also said the US central bank will stop selling down its balnce-sheet of US Treasury bonds – built through quantitative easing during the global financial crisis a decade ago – at the end of this summer.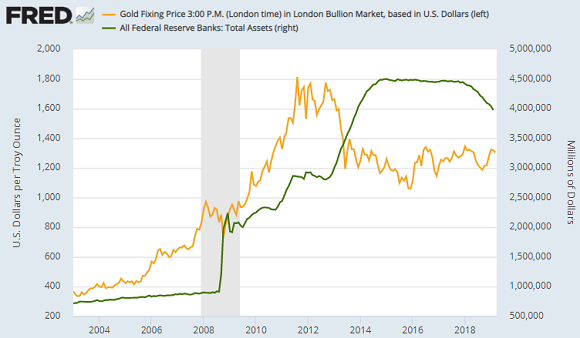 Tokyo shares edged 0.2% higher overnight but Shanghai was flat, holding a 11.5% gain from this time last month on the CSI300 index, after Donald Trump told reporters that while China trade talks are progressing well, he still doesn't trust Beijing.
European equities then followed New York lower after the overnight drop in US shares.
"We're not talking about removing [tariffs]," said Trump, "we're
talking about leaving them
for a substantial period of time because we have to make sure that if we do the deal with China that China lives by the deal."
Major government bond prices jumped, pushing 10-year US Treasury bond yields down to their lowest since New Year 2018 at 2.52%.
Betting on Fed Fund futures now see an even chance that the US central bank will cut its key policy rate before February 2020.
Retreating to $1312, the gold price in US Dollar hit a spike at $1320 in late Asian trade, its highest so far this month.
"I am on your side," she told viewers. "It is now time for MPs to decide" whether they Parliament wants her deal, no deal or no Brexit.
Also visiting Brussels on Thursday, "Our determination is to prevent a no-deal exit," said UK opposition
Labour Party leader Jeremy Corbyn
, "building a majority in Parliament that can agree on a constructive future economic relationship with the EU...and we've been trying to reach out here" as well as in Westerminster.
A petition posted overnight calling for Parliament to revoke Article 50 gathered more than 900,000 signatures by lunchtime Thursday, apparently crashing the government's official petitions website mid-morning.
Though small, the UK government's budget surplus was larger than expected in February, while retail sales also beat forecasts.