Gold Price 'Struggling' as Trump 'Set to Sway' Fed Interest Rates
Tuesday, 2/21/2017 14:00
GOLD PRICES fell below $1230 per ounce in London trade Tuesday morning, losing 1% from last week's finish as US traders returned from the President's Day holiday focused on how Donald Trump and rising inflation could see the Federal Reserve raise interest rates again as early as March.
Asian and European stock markets edged higher while bond prices fell, nudging up longer-term interest rates.
Silver tracked the drop in gold prices, bouncing off 1-week lows at $17.85 per ounce.
Major indexes of commodity prices rose, but held shy of January's 18-month highs.
After optimism amongst US businesses
leapt at a record pace
following Donald Trump's White House victory, the bosses of major employers including GE and Boeing are now urging the new president to "revamp" America's tax code, reports the
Financial Times
, in what some call
a once-in-30-years opportunity
.
With the US economy already near "full employment", the January Consumer Price Index put annual inflation at it fastest pace in 5 years, above the Fed's 2.0% target.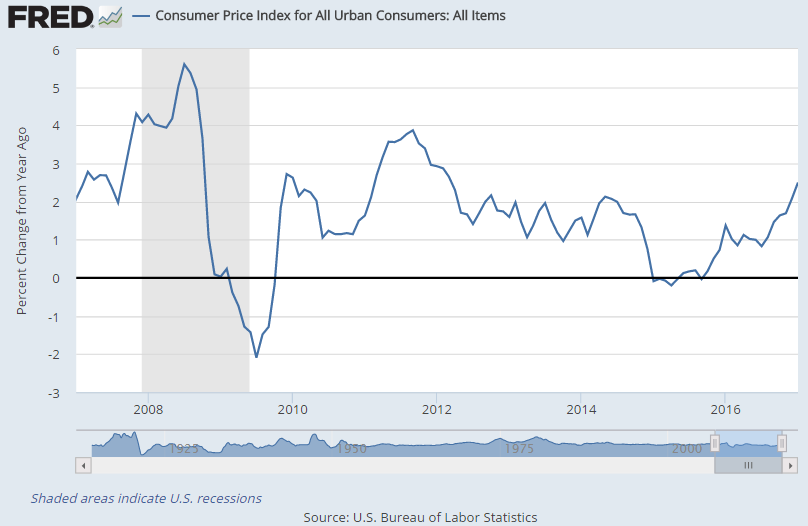 After gold prices failed last week to beat February's earlier high of $1244, "Recovery appears to be losing steam," says the latest technical chart analysis from French investment bank Societe Generale.
Slipping Tuesday morning, "Gold is struggling to find the support required leading into Wednesday's FOMC minutes release," says Swiss refining and finance group MKS of tomorrow's notes from the US Federal Reserve's "no change" decision of 1st February.
"All eyes," agrees a commodities and gold price note from Australia's ANZ Bank, "will be [looking] for any evidence that Trump's policies are having an impact on the Fed's rate policy" ahead of the central bank's 15th March decision.
Longer term, notes Jonathan Butler at Japanese conglomerate Mitsubishi, the new US president must now appoint 3 replacements to the
Fed's Board of Governors
– each with a term of 14 years – thanks to the "surprise resignation" of Daniel Tarullo earlier this month.
With 2 of the 7 seats already empty, and with Donald Trump promising to rollback recent US regulation, "tough banking supervisor" Tarullo will step down in April.
Moreover, Fed chair Janet Yellen's current term then expires 1 year from now, with vice-chair Stanley Fischer also needing re-appointment or replacement 4 months later.
"For the first time in a generation," says Mitsubishi's Butler in his latest weekly precious metals note, this all gives the US president "the chance to significantly alter the makeup of the Fed's Board of Governors and thus potentially alter US monetary policy for many years to come."
US traders last week left betting in the Fed Funds futures market with 80% odds of "no change" at the March meeting.
But "I would not take March off the table at this point," said 2017 voting Fed committee member Patrick Harker, head of the Philadelphia branch, in an interview made Friday.
Commenting on Trump's tax and fiscal plans however, "Until there's more specificity on policies I really can't factor those into my forecasts," Harker also said last week.