Gold Price Comex Longs Grow, ETFs Expand as Japan GDP Slumps, China Vows Anti-Virus Stimulus
Monday, 2/17/2020 14:53
GOLD PRICES held in a tight range Monday lunchtime in London as Asian shares closed near 3-week highs and European stocks also inched higher near all-time records after China announced fresh efforts to limit the impact of the coronavirus outbreak on the world's No.2 national economy, writes Atsuko Whitehouse at BullionVault.
China has now confirmed nearly 71,000 infections, with most of the cases in Hubei province. Almost 1,800 people have died, according to China's National Health Commission.
Neighboring Japan meantime confirmed another 99 cases of coronavirus today on board the Diamond Princess cruise ship, currently under quarantine in Yokohama.
Gold prices earlier dipped to $1578 per ounce, down $5 from their weekend level, as the US Dollar index – tracking the greenback against a basket of other currencies – eased from its highest levels of 2020 so far.
Contrary to other Asian markets, Japan's Topix share index slid as much as 1.5% on Monday after the world's 3rd largest national economy reported its worst GDP performance since 2014, equivalent to an annual contraction of 6.3% even before Covid-2019 hit its East Asian neighbor.
Thailand meantime posted its slowest expansion in five years and Singapore cut its growth projection for 2020, also flagging a risk of recession.
"Sentiment is friendly and there is an underlying bias to be long [of gold]," says Swiss bullion bank UBS in a note.
"For now, investors wait for fresh catalysts and/or more attractive levels to reengage."
The world's largest
gold-backed ETF trust fund
, the giant SPDR Gold Trust (NYSEArca: GLD), last week expanded by 0.9% to need 924 tonnes of bullion, its 5th weekly expansion in a row as investor demand meant the creation of new shares.
But with the GLD growing in size near last fall's 3-year high, gold prices in contrast have reached their highest in US Dollar terms since March 2013, and set fresh all-time Euro records yet again on Friday.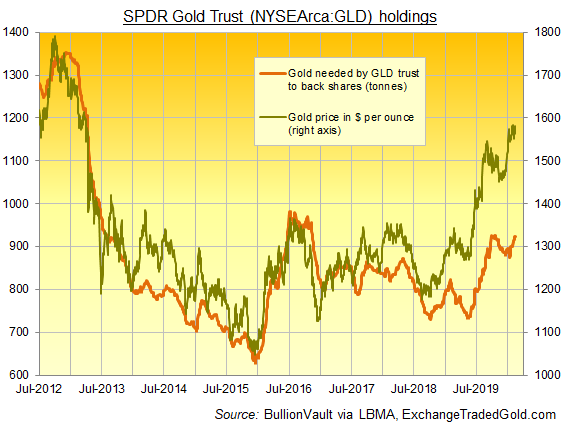 Cheaper competitor gold ETF the iShares Gold Trust (NYSEArca: IAU) also saw net investor inflows last week, expanding by 1.1% to need a new record of 373 tonnes in backing.
Data from US regulator the CFTC meantime say that, after declining for 4 weeks, the net speculative position of hedge funds and other 'Managed Money' traders in Comex gold derivatives contracts grew by 8.5% in the week-ending last Tuesday.
In contrast, speculators in US derivative contracts cut their net bullish betting on silver, platinum and palladium prices, down 1.5%, 2.4% and 11.8% respectively
on last week's data
– gathered and published by US regulator the Commodities Futures Trading Commission (CFTC).
Silver prices today jumped 0.8% to reach two-week high at $17.89 per ounce, recovering from near 3-week lows hit last week.
Prices for platinum – a key component in catalysts needed to cut harmful emissions from diesel engines – meantime gained 0.3% at $968 per ounce, while sister metal palladium – needed in gasoline autocats – rose 0.6% to $2466 per ounce.
Representing the world's largest auto market, China may see
a 10% drop in sales
of passenger vehicles over the first half of 2020, according to its official auto trade association.
On Sunday, the finance ministry announced it will roll out tax cuts to try and offset the economic slowdown caused by quarantining millions of people at home, with many businesses still not re-opening after the Lunar New Year holidays.
The People's Bank of China today also lowered one of its key interest rates and injected more liquidity into the country's money markets.
With US stock and bond markets closed Monday for the President's Day holiday, the Trump administration is meantime eyeing tax-cut proposals, according to National Economic Council director Larry Kudlow, a key advisor to the White House.
Gold prices for European investors today slipped 0.2% to €1459 per ounce as the single currency edged higher from last week's near 3-year lows after a run of weak economic data.
UK gold prices in Pounds per ounce
edged higher to £1215 as Sterling pared last week's gains amid market expectations of more public spending from the new finance minister, 39-year old ex-hedge fund manager Rishi Sunak.