Gold Prices Ex-US Dollar Break Above $1450 as Italy's 'Brexit' Talk Hits Euro
Friday, 2/15/2019 14:28
GOLD PRICES rose to fresh multi-month highs for several major currencies on Friday, hitting £1030 for UK investors and breaking above €1170 per ounce in Euro terms as a senior politician in Italy called for the core European Union nation to "change the EU or leave".
Asian stock markets cut this week's gains but still closed 1.2% higher from last Friday, while European equities rose to head for a 3.0% weekly gain at 4-month highs on the EuroStoxx 600 index.
With the US gold price holding unchanged for the week at $1316 per ounce, the gold price adjusted by the Dollar's trade-weighted currency value rose 0.9% from last Friday according to BullionVault analysis.
Rebased to the turn of the millennium, that put gold priced ex-USD – effectively the gold price for everyone outside the Dollar – above $1450 for the first time since December 2012.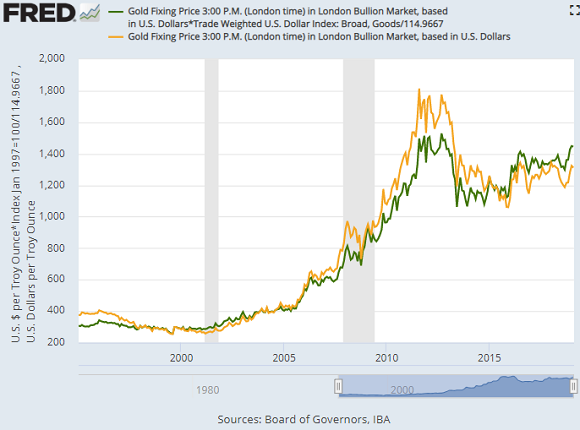 Gold prices in China – the metal's No.1 household consumer nation since 2013 – rose back above ¥288 per gram on the Shanghai Gold Exchange overnight, just half a Yuan off setting new 29-month highs in what dealers called "quiet" wholesale trade following last week's key Chinese New Year holiday period.
"[Indian] consumers don't want to make purchases at the current price level," Reuters meantime
quotes one Mumbai gold dealer
, with the No.2 consumer nation's 10% import duty and sales taxes taking jewelry prices back near the all-time highs of mid-2013.
Japanese Yen prices rose back towards Wednesday's new 13-month highs above ¥4,690 per gram and gold priced in Swiss Francs neared its highest since the UK's shock Brexit referendum result of mid-2016.
UK gold prices in Pounds per ounce
meantime rose within £3 of early January's 16-month highs, gaining above £1029 as the Government of Prime Minister Theresa May pushed on with trying to renegotiate the Irish backstop element of her Brexit deal with the European Union despite
last night's defeat in a Parliamentary vote
following a rebellion by 'hard Brexit' members of her Conservative Party.
UK retail sales for January beat analyst forecasts, rising 4.2% from a year earlier new data showed Friday.
The
Eurozone's trade surplus
with the rest of the world meantime came in at E194.2bn for 2018, down by nearly one-fifth from the year before.
"Perhaps the environment would be less toxic if, instead of
closing our eyes to Germany's enormous trade surplus
, it respected the rules," said Claudio Borghi, chairman of the Italian Parliament's budget committee and a member of the Lega Party – now in coalition with the anti-establishment M5s – at a trade-union meeting in Milan this morning.
"I think [this May's EU election] is the last chance...I say we must change the European Union or leave it."
Relations between Italy and France
also remain "tense"
, says DW.com, even as Paris today redeployed its ambassador to Rome after
recalling him last week
– the first such move since WWII – in shock at Italian coalition minister Luigi Di Maio of M5s expressing support for the gilets jaunes' "revolution" against French President Emmanuel Macron.
The Euro's drop on the FX market meant gold prices set new 22-month highs, up 0.8% for the week, as Italy's borrowing costs rose following Borghi's comments, again taking the spread on 10-year Italian bonds up to 280 basis points above comparable German costs.
Still below late-2018's spike to 5-year records, that gap remains more than double
the BTP-Bund spread
of this time a year ago.
Paris meantime prepared for 'Act 14' of weekend demonstrations by gilets jaunes protesters – leaders of whom are now facing trial and sentencing in French courts – while Spain's Prime Minister Pedro Sanchez today
called a snap election
for 28 April, just ahead of the EU elections, after breakaway Catalan politicians joined with right-wing members of Parliament to defeat the proposed 2019 budget of his 8-month old Government.
With the latest US funding package giving him $1.4bn for his border wall with Mexico meantime, US President
Trump today declared a "national emergency"
over the "security crisis on our southern border" in a legal bid to divert $8bn from other spending plans.
Crude oil prices showed a 4.4% rise for the week as thousands of
UK schoolchildren walked out of school
in "climate change strikes" to protest at the "inaction of those in positions of power."
Over in Beijing, US President Trump's Treasury Secretary Steven Mnuchin trade talks with Chinese officials had been
"productive" but with no resolution
so far to the massive tariffs set to be imposed on each side's imports from 1 March.