Biden's $1.9 Trillion Stimmy 'Not Enough', Sees Gold Price Slip with Commodities and Rates
Friday, 1/15/2021 14:18
GOLD PRICES slipped to a $7 weekly loss in London on Friday, trading at $1841 per ounce for Dollar investors as the US currency held firm but global stock markets slipped even after President-Elect Joe Biden announced a stimulus plan worth $1.9 trillion, larger than analysts expected.
Commodities retreated from the most expensive in a year on the Bloomberg Index while longer-term US borrowing costs slipped from 10-month highs.
With Japan, Germany, the UK and the US all showing new record daily deaths from Covid-19 this week, European shares showed their first weekly drop in five, trading almost 6% below January 2020's all-time high.
Calling again to more than double the minimum wage to $15 per ounce, Biden promised lower and middle income taxpayers a gift of $1,400 in new Economic Impact Payments to offset the coronavirus pandemic and shutdowns, on top of the $600 stimulus checks already sent.
"With Democrats controlling both chambers and the White House after November's elections," says Fox News, "it [is] likely they could pass a stimulus package."
"Gold's upside looks constrained amid rising yield and buoyant risky assets," says Australasian bank ANZ in a note.
"However, a weaker US Dollar, stimulus expectations and depressed real interest rates should remain supportive. Talks around tapering asset purchases will be the key headwind developing later this year."
US bond yields fell after Biden's speech – suggesting that traders expected bigger promises – retreating to 1.10% per annum on 10-year Treasurys and erasing the last week's spike to the highest longer-term interest rates since the Covid Crisis began last March.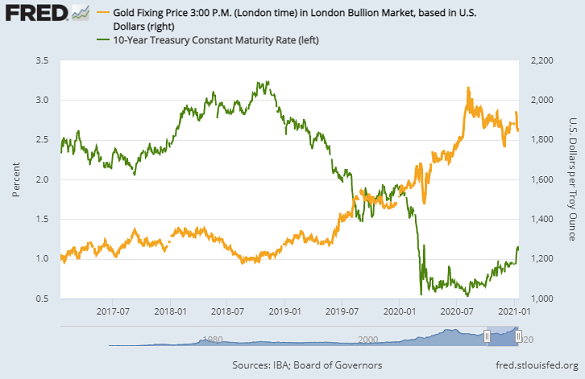 "Many, though, had penciled in smaller packages [from Biden], more along the lines of the $892 billion stimulus passed in December."
With market-implied inflation forecasts holding at 2.09% on Friday, their highest since late 2018, that put the real rate of interest – against which gold prices show a strongly negative average correlation of minus 0.65 across the last half-decade – back down at minus 0.99%.
Signalling a loss of purchasing power of 1/10th for US bonds by 2031, that negative real rate marked a multi-decade low when reached as gold prices rose through $2000 for the first time ever last summer.
Next week's inauguration of Joe Biden and his Vice-President Kamala Harris – for which he will not now arrive by train, for fear of attack –
risks "potential armed protests"
in Washington D.C. and elsewhere warns FBI Director Christopher Wray.
Thursday saw both the giant gold-backed SPDR trust fund (NYSEArca: GLD) and the No.2
gold ETF
the iShares product (NYSEArca: IAU) shrink once again as investors liquidated shares.
Needing 10 fewer tonnes for a 2nd day running, the GLD has seen its sharpest net outflows since December 2011.
The price gap between London and Shanghai gold prices has in contrast turned positive this week, with Friday's Fix sealing an average premium for gold in China – the metal's No.1 miner and consumer nation – of $4.90 per ounce, the
first positive incentive to new imports of bullion
since February 2020 and the largest since late-January last year.