Gold Bullion Jumps as US GDP Blows Past Forecasts on Weak Inflation, Low-Rate Outlook
Friday, 4/26/2019 14:50
GOLD BULLION sank and then immediately regained a 0.5% drop Friday lunchtime in London, heading for its first weekly gain in 5 as new US data blew past analyst forecasts for the world's largest economy.
With the
Atlanta Fed's GDPNow tool
predicting 2.7% annual growth, the US economy topped Wall Street's consensus prediction of 2.1% with a 3.2% rise in GDP.
The strongest Q1 growth since 2015, that was aided by the pace of inflation
more than halving to 0.8%
on the Personal Consumption Expenditures measure.
With over 70% of all speculative betting on US interest-rate futures now foreseeing a cut from the Federal Reserve by February 2020, gold bullion swiftly rallied to add almost $10 per ounce from its initial drop on the GDP news, trading up to $1285 for the first time since early last week.
Major government bond prices also rose, pushing long-term interest rates lower, but crude oil retreated hard from this week's new 6-month highs.
Silver prices
tracked gold bullion higher, reclaiming last week's close just above $15 per ounce.
Platinum also rose, trading at $892.50 – a 10-month high when reached at the start of April.
"With inflation still subdued, it's too early to start worrying about fed rate hikes again,"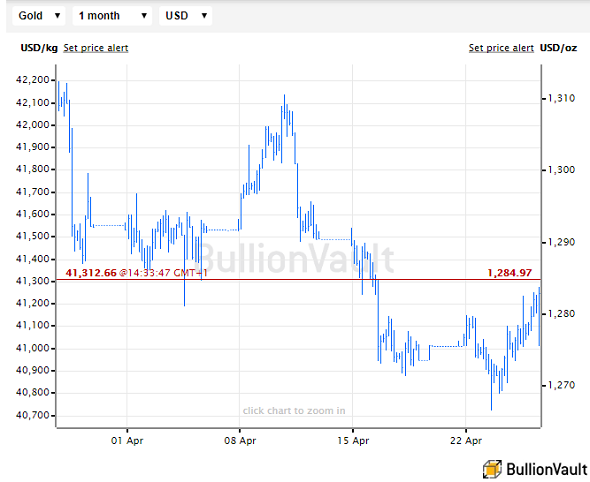 Friday's New York opening saw shares in I.T. hardware giant Intel (Nasdaq: INTC) fall to a 2-month low, down over 9%, after missing analyst forecasts with this week's Q1 earnings report.
Stock in online retail monster Amazon (Nasdaq: AMZN) meantime failed to top Tuesday's new 6-month high
despite beating expectations
, despite announcing what one analyst called "game-changing" plans for faster delivery times, and despite all US stock brokerages who follow the company rating it a 'buy'.
Over in Asia, this week's earlier drop for gold priced in US Dollar terms has seen dealers in top consumer nations China and India raise their premiums over global quotes, Reuters reports
Over in Mumbai, and ahead of India's Hindu festival of Akshaya Tritiya – now a key promotional period for gold dealers – "at current price levels demand is very good from retail buyers," says Mukesh Kothari, director at RiddiSiddhi Bullions.
Holding at €1150 per ounce as the Dollar whipped on the FX market, the price of gold bullion in Euro terms traded up 1.4% for the week.