Gold Bullion Flirts with Bearish 'Outside Week' But Negative Real Rates 'Very Positive, Unlike Geopolitics'
Friday, 1/10/2020 14:06
GOLD BULLION rose to trade dead-flat for the week against the Dollar and all other major currencies lunchtime Friday in London as new US jobs data came in well below analyst forecasts.
Priced in the Dollar, gold held just below $1550 per ounce – unchanged from last Friday after
spiking $60 higher on this week's US-Iran confrontation
– after the world's largest economy reported jobs growth of 145,000 for December, missing Wall Street's guess by more than one tenth.
Contrary to this week's earlier bullish jobs report from the private-sector ADP Payrolls provider, the US government's Bureau of Labor Statistics also revised down November's
non-farm payrolls figure
and reported slower average wage growth – down from 3.1% to 2.9% per year.
World stock markets cut earlier gains for the day, but led by US equities global shares have now set 12 new all-time records in the last month's 22 trading days according to the
MSCI data agency
's All-Country World Index, covering 47 developed and emerging economy exchanges.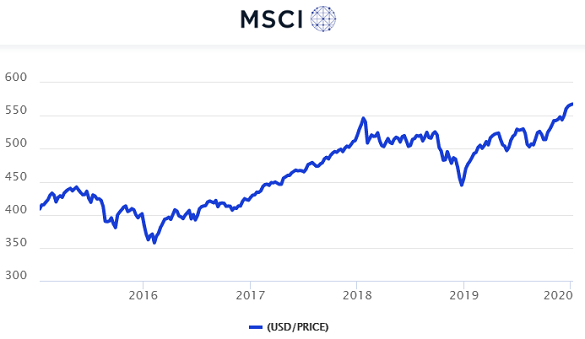 Iran's civil aviation chief meantime said it was "
absolutely impossible
" that the country's own air-defense systems shot down the Ukrainian passenger jet which crashed Wednesday, killing all 178 people on board, as the Tehran regime fired rockets at US targets in Iraq as revenge for killing a senior military leader by drone last week.
US President Trump told a political rally in Ohio overnight that he
didn't need Congressional approval
for assassinating Major General Qassem Soleimani, and again called the opposition Democrat Party's attempt to impeach him a "hoax".
"The heightening of geopolitical risk has brought forward safe-haven buying that started to slow down in gold," says Suki Cooper of Asian and London bullion market-making bank Standard Chartered, calling New Year 2020's spike in gold prices a "flight to safety".
"[But] geopolitics tend to be very haphazard [as a driver for gold] and it also doesn't tend to last very long in the gold price," says Wayne Gordon at Swiss bullion bank UBS's Global Wealth Management division.
More importantly, he told Bloomberg Friday, "Clearly there's still a few weak spots [in the economy], so we think the Fed could move again to shore up growth."
Indeed, Gordon told Bloomberg today, the Federal Reserve is now very clear that US interest rates are going to stay "lower for longer" as the central banks waiting for inflation to move significantly higher, meaning real interest rates "are going to go deeply into negative territory.
"A weaker Dollar and weaker rates are very positive drivers of gold."
December saw activity in the US manufacturing sector shrink at its worst pace since the global slump of 2009 according to closely-followed survey data from the Institute for Supply Management.
Looking at bullion's near-$100 spike over the first week of New Year 2020, "Gold did in the first three days what it was supposed to do through the entire year," says derivatives platform Saxo Bank's commodity strategist Ole Hansen, speaking to Kitco.
"We have seen this pattern before. While geopolitical uncertainty drives prices higher it doesn't lead to sustainable prices," he says, having warned earlier this week that gold's failure to hold Wednesday's break through $1600 "is
likely to lead to 'key reversal' comments
" from technical analysts.
Known as an "outside week" in technical analysis, this chart pattern sees an asset spike higher only to close the period lower than it began, and is often taken as a bearish signal if it comes after a run of weekly gains.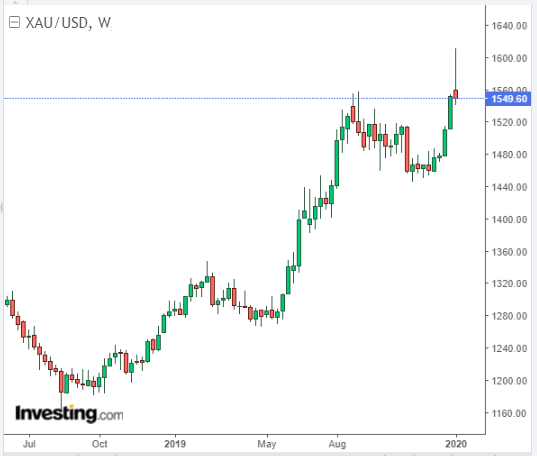 Ahead of Friday's US jobs report, all but 4.4% of betting on Federal Reserve interest rates saw the US central bank cutting or making no change before the end of this year.
That would leave the cost of overnight borrowing at a ceiling of 1.75%, well below the 2.3% annual pace of consumer-price inflation – excluding 'volatile' fuel and food prices – recorded for November.
December's
CPI data
are due for release next Tuesday.