Gold Bullion Up Again in New Year 2017, GLD Yet to React as Weak Jobs Hit Dollar, T-Bonds Rally with China's Yuan
Thursday, 1/05/2017 14:46
GOLD BULLION prices hit fresh 1-month highs on Thursday, trading above $1177 per ounce as the Dollar slipped again after weaker-than-expected US jobs data and the Chinese Yuan extended its New Year 2017 rally on the currency market.
London's FTSE100 equity index of global corporations touched another fresh record high before edging back.
New York's S&P500 last night tried but failed for the third time to break early December's closing record-high above 2171 points.
Today's private-sector ADP Payrolls estimate said US businesses added 153,000 jobs in December, badly shy of the 215,000 average analyst forcast.
Commodity prices rose again Thursday, with Europe's benchmark Brent crude nearing an 18-month high of $57 per barrel.
US government bond prices also continued their New Year's rally, pushing the yield offered by 10-year Treasurys down to 2.43% as New York opened.
That drop in yields – caused by bond prices rising from December's sell-off – is the fastest retreat since last July's plunge to new all-time record lows of 1.37%, hit in the aftermath of the UK's shock Brexit referendum result.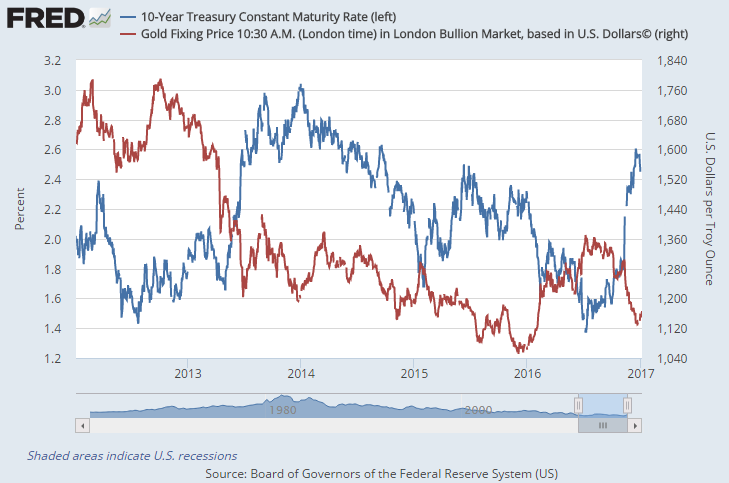 With
overnight interest rates jumping
to 8-year highs in Hong Kong, "They have kick-started a move that has washed out short-term speculative money," the news-wire quotes $20 billion FX trading fund Millennium Global's Richard Benson.
With Yuan prices unchanged but Dollar gold jumping, Shanghai premiums on gold bullion – over and above comparable London quotes – retreated Thursday below $20 per ounce for the first time since late November, when
Beijing was reported tightening restrictions
on new import licenses ahead of the key Chinese New Year festive season.
The year of the Rooster will begin on Saturday 28 January, with financial markets closed for the following week's holiday, often
dominated by travel
and shopping.
Thanks to the Spring Festival of
'pin yin', China's private demand for gold
bars, coins and jewelry has on average risen 21.3% in the first quarter of the last 5 years from the previous 4 quarters' average according to data compiled for market-development organization the World Gold Council.
Western investors yesterday kept their shareholding in the giant SPDR Gold Trust (NYSEArca:GLD) unchanged as prices rose, stemming the ETF's near 2-month liquidation.
The GLD hasn't seen a net inflow of gold bullion to back its shares in issue since 9 November, the day of the US election.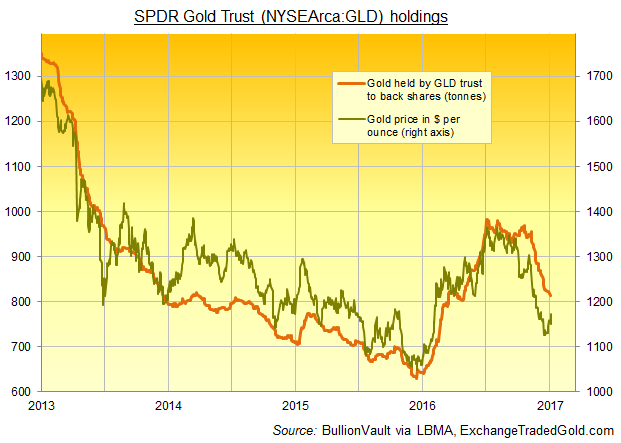 With gold bullion prices falling some 9% since
Donald Trump's victory
, investor liquidation has shrunk the GLD by nearly 15%, taking its holdings down to 813 tonnes – the smallest quantity since last May.