'Buy Gold Aggressively' as Virus Shutdowns Spread Worldwide After Shock US Fed Rate Cut
Wednesday, 3/04/2020 14:51
PRICES to buy gold held onto yesterday's strong gains in all currencies on Wednesday, trading above $1640 per ounce as Western stock markets rallied following the Federal Reserve's dramatic cut to US interest rates spurred by the widening global virus outbreak.
Industrial precious metals struggled in contrast, as palladium held almost $400 below Friday's new all-time record and platinum edged up to $880, little changed from before yesterday's sudden inter-meeting rate cut by the Fed.
Silver prices
held over 9% below last week's 5-month high, trading at $17.20 per ounce.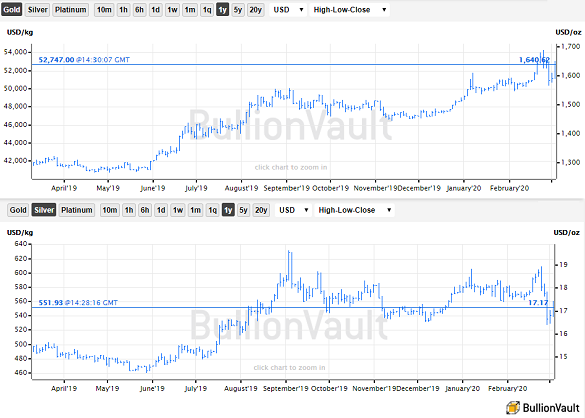 "Biden primary wins help lift stock futures from COVID doldrums,"
says a headline
at MarketWatch after former US vice-president Joe Biden won the 'Super Tuesday' stage of the opposition Democrat Party's presidential candidate nomination, denting socialist Bernie Sanders' chances of facing Donald Trump in November's election.
"The country's in great shape. The market's in great shape," said Trump after the Dow sank by 700 points following the Fed's half-point cut to 1.0% rates.
"The Federal Reserve is cutting but must further ease," the President also tweeted, but "This is a human tragedy...not an economic tragedy," claimed his chief economic adviser Larry Kudlow.
South Korea's massive shipping sector is "heading for disaster" according to one industry figure, with traffic through the port of Incheon down 60% as exports from giant neighbor China dry up amid its mass quarantines and business shutdowns.
Reduced passenger flights in Asia have cut air freight capacity by 50-70% according to one estimate, meaning "The market has got very f..ked up, very quickly" and sending costs soaring.
Italy's education minister today said Rome is likely to
shut all schools and colleges
across the Eurozone's 3rd largest economy for a month starting Thursday.
Ireland reported a second case of coronavirus, but the Government said it will go ahead with St.Patrick's Day festivals on 17 March.
Next week's London Book Fair – a key event for the publishing industry, regularly attended by 25,000 people from 135 countries – was today cancelled as England's chief medical officer called an epidemic "likely".
The Louvre in Paris re-opened however after the French government told staff there is no "serious and imminent danger to life or health" for museum workers because they are unlikely to see gatherings of more than 5,000 people in one space – now banned across the Eurozone's No.2 economy.
"I would buy gold aggressively on this rate cut – aggressively – as
protection against whatever horrific predictions
made the Fed want to take such a drastic move," says celebrity stockpicker and money manager Jim Cramer, also urging CNBC viewers to buy high-yield and medical device shares after Tuesday's fresh slump on Wall Street.
"You're not going to nail the bottom, which is being caused by the illness, but there are opportunities here, and otherwise just a lot of stocks to sell because...it's bad out there."
With prices to buy gold spiking to 7-year Dollar highs and fresh records for UK and Euro investors last week, volumes in London and Zurich's physical gold markets set a new series record on industry body the LBMA's liquidity data, gathered from the Association's trading members and published by trading exchange Nasdaq.
Spot, forward and options volumes totaled over 285 million Troy ounces in the week-ending 1 March according to
LBMA-i
, blowing past the previous record of 227moz and equating to 2.5 times annual world mine output.
More leveraged and speculative again, Comex gold options currently see the most bullish bets at a strike price of $1700 per ounce for April.
Prices to buy gold for Euro investors meantime held unchanged from Tuesday's jump, recovering half of last week's drop from Monday 24 Feb's fresh record of €1561 per ounce.