Gold Prices Flirt with '$1200 Support' as Dollar Soars, GLD Sell-Off Longest in 12 Months
Friday, 11/18/2016 13:59
GOLD PRICES rallied off near 6-month lows in London trade Friday, flirting with the $1200 per ounce level as the Dollar rose yet again on the FX market.
Global stock markets held flat overall, as did commodities, while major government bond prices steadied after falling for 8 days straight, nudging yields lower from their new 2016 highs.
The Dollar pushed the Euro down to new 2016 lows beneath $1.06 as US Fed policymaker James Bullard said he's
still "leaning" towards
a December rate rise following Donald Trump's victory in the US presidential election.
Gold priced in the Euro rose to €1142 per ounce today – some 1.0% higher for the week – while US gold prices held a 1.1% drop from last Friday at $1213.
Leading gold-backed exchange-traded trust fund the SPDR Gold Trust (NYSEArca:GLD) yesterday shrank in size for a sixth session running – its worst stretch since prices set what were then new 6-year lows beneath $1100 in November 2015 – as shareholders liquidated stock.
The world's largest
gold ETF, the GLD
has now shrunk more than 6% from early July's 3-year high, immediately following the UK's Brexit referendum on quitting the European Union.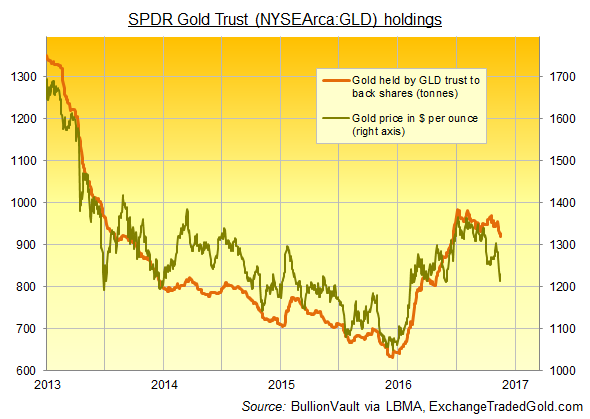 Trading volume on China's Shanghai Gold Exchange rose overnight for the first day in four, growing to 46.7 tonnes in the SGE's main contract – still less than one-third the new record high of Trump Wednesday.
China's benchmark
Shanghai Gold Price
rallied at the afternoon fixing, but settled at the lowest Friday finish in Yuan terms since early June.
Gold's "[nearby] support remains unchanged at $1199.85 – [the] May low," says strategist Russell Browne in his
Gold & Silver Marketwatch
at bullion market-maker Scotiabank.
Spiking on last week's US election victory for Donald Trump, "Gold tested a descending trend resistance near $1330/1344 and has confirmed a [head & shoulders] pointing towards further downside," says technical price-chart analysis from French investment and bullion market-making bank Societe Generale.
"It looks headed towards graphical support of $1200/1172...In case this gives way, a large down move is likely."
Gold prices face "maintain[ed] downside pressure following the recent failure at the 5-year downtrend" off 2011's peak, agrees Karen Jones at German financial services group Commerzbank.
"The market has sold off to the 50% retracement of this year's move at $1210...[near] the March, April and May lows as well as the October 2015 high.