Gold Prices Sink, Down 3% vs Surging Pound as UK High Court Says Parliament Must Get 'Article 50' Vote Before Brexit
Thursday, 11/03/2016 13:24
GOLD PRICES whipped $20 per ounce lower Thursday morning in London, dropping 1.5% from near 1-month Dollar highs even as the US currency fell on the FX market amid central-bank forecasts of rising inflation, new opinion polls for Tuesday's looming US election, and a successful challenge to the UK's Brexit process in the High Court.
Dollar gold prices then bounced $7 from $1285 per ounce, halving this week's gains so far.
The British Government said it would
appeal the Court's decision
that June's referendum does not give it executive power to trigger Article 50 of the Lisbon Treaty on European union – starting the UK's 2-year legal countdown to leaving the EU – without a vote of approval by Parliament.
Already trading 0.9% higher for the week so far, the Pound jumped 1.5 cents to 1-month highs against the Dollar at $1.2494 after the Inflation Report and Article 50 ruling.
That still left Sterling 28% below its 5-year high of mid-2014.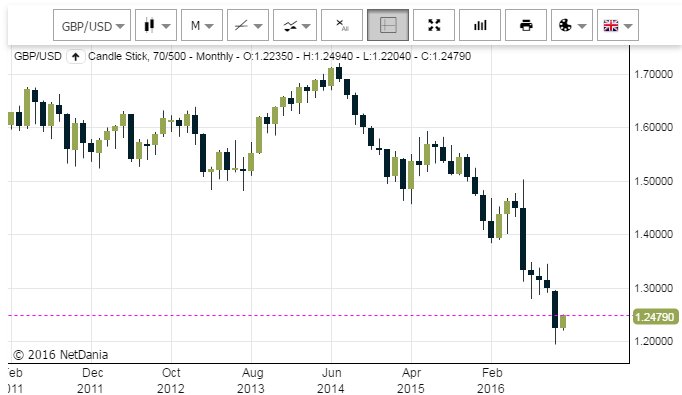 Having risen 14% from the immediate Brexit vote sell-off, the FTSE-100 index of mainly global businesses listed in Pounds on the London Stock Exchange reversed Thursday's earlier gains to lose 0.6% for the day while European stocks traded higher.
All major developed-economy government bond prices meantime fell after the Bank of England joined Australia and Japan in holding its key interest rate unchanged at a record low, but
forecast a jump in UK inflation
to 2.7% per year in 2017 as a result of Sterling's post-Brexit vote drop.
After the Bank
consistently forecast inflation below
out-turn during the 2002-2012 surge in commodity prices, and then consistently forecast it above, that 2017 figure would mark
UK inflation
's first trip above the Bank's 2.0% target since end-2013.
Interest rates offered by UK government bonds rose Thursday as debt prices fell, with 10-year UK Gilt yields revisiting Monday's post-Brexit high of 1.22% per year – itself a new all-time record low as the referendum approached in June.
Ten-year UK yields then hit new all-time lows just above 0.50% per year as gold prices peaked in the immediate aftermath of the June 24 result.
"
Inflation has increased somewhat
since earlier this year," said the US Federal Reserve on Wednesday, holding its key interest rate unchanged for the 11th month running after finally raising from 7 years at zero.
US consumer price inflation "is still below the Committee's 2% longer-run objective," the Fed added, noting a softening in jobs growth and concluding that "[while] the case for an increase in the federal funds rate has continued to strengthen [we] decided, for the time being, to wait for some further evidence of continued progress."
Silver tracked the retreat in gold prices Thursday morning, falling almost 4% from yesterday's 1-month high but bouncing just above $18.00 per ounce to hold a 2.4% gain for the week so far.