Gold Price Hits 1-Week Low Despite 'Beautiful' Low Inflation Data as T-Bond Yields Rally
Tuesday, 6/11/2019 14:23
GOLD PRICES fell to 1-week lows against a rising Dollar in London trade Tuesday, losing 2.1% from last week's 14-month high as world stock markets rose with longer-term US interest rates but inflation data pointed lower.
Ten-year US Treasury yields touched their highest so far this June at 2.17%, up one-tenth of a percentage point from last week's 21-month lows, before edging back down following weaker-than-expected US producer price figures.
Ahead of tomorrow's US consumer-price inflation data, US wholesale prices today
showed nearly zero change
for May from April.
"The inflation number is
the big thing
," the
Financial Times
quotes Jon Hill, rates strategist at Canada's BMO Capital Markets brokerage.
"If you start to see disappointing inflation as well then it is game over [for higher interest rates]. The Fed will move into a cutting cycle."
The United States has VERY LOW INFLATION, a beautiful thing!

— Donald J. Trump (@realDonaldTrump) June 11, 2019
Adjusted for inflation expectations, 10-year yields show a solidly negative correlation with Dollar gold prices, averaging -0.48 on a rolling 1-month daily basis over the last decade.
That figure would read +1.0 if real yields and gold moved together in lockstep, or -1.0 if they moved perfectly opposite.
Since 10-over-10's peaked near 1.2% per year last November, just ahead of the
worst stockmarket slump since 2011
, they sank to last weekend by 0.8 percentage points, the sharpest 7-month drop since mid-2016's shock Brexit referendum result.
The gold price meantime rose by $116 per ounce.
On average over the last decade however, gold prices have risen $160 when real 10-year yields have fallen that fast.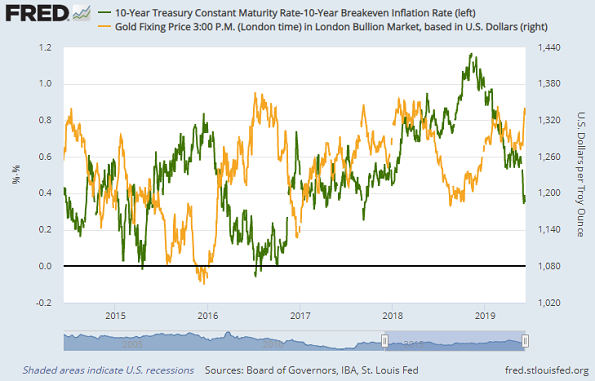 "Easing trade tensions weighed on the gold market [Monday]," reckons one Asia-based analyst quoted by Reuters, "but it hasn't erased concerns around the US-China talks.
"We are seeing some residual safe-haven buying keeping prices well supported."
Gold prices fell 0.7% as Asian closed and London opened for business however, taking bullion down to $1320 before it rallied $5 per ounce at the start of New York trade.
Monday's retreat in gold
saw the weakest volume on Comex futures and options trading since 22 May, barely half the level of 5 June, when prices broke higher towards breaching February's peak.
Yesterday also saw further small outflows of ETF investor cash from the giant SPDR product (NYSEArca: GLD) and iShares trust (NYSEArca: IAU).
Chinese Yuan gold prices slipped 0.3% overnight from last Thursday's new 6-year high, edging lower as the Shanghai Gold Exchange re-opened after the long Dragon Boat holiday weekend.