Gold Prices 'Challenged' at $1250 Before Trump's Obamacare Vote as Inflation Whacks UK Retail Sales
Thursday, 3/23/2017 13:59
GOLD PRICES again outpaced other precious metals to set fresh 3-week highs in London wholesale trade Thursday, rising again above $1250 per ounce as world stock markets held flat from this week's slump ahead of US lawmakers voting on President Trump's repeal of Obamacare.
With all Democrat Representatives set to vote against the change, keeping the Affordable Care Act in place, "No more than 22 Republicans can vote against the bill if it is to pass," says the
New York Times
, reporting that
29 currently look likely
to rebuke Trump's plan.
Silver meantime popped higher to $17.69 per ounce, its strongest in 2 weeks, but
platinum prices
held unchanged at last week's finish of $965.
Retreating below a 3-week high of $1250 as news broke Wednesday of
an apparently lone terrorist
killing 4 people outside the Houses of Parliament in London, gold prices then rose but failed to hold that level again overnight.
"This psychologically important threshold appears to be posing something of a challenge," said the latest daily commodities note from German financial services giant Commerzbank Thursday morning.
"[But] the chances of the gold price rising above $1250 are good [now that] hopes of
'Trumpflation' are dwindling
...putting pressure on the US Dollar, US stock markets and US bond yields."
Most notably amongst hedge funds and other speculator traders in Comex gold futures and options, Commerzbank says, "in the run-up to [last week's] Fed meeting their net long positions had dropped to their lowest level since the beginning of the year.
"There is ample upside potential, in other words."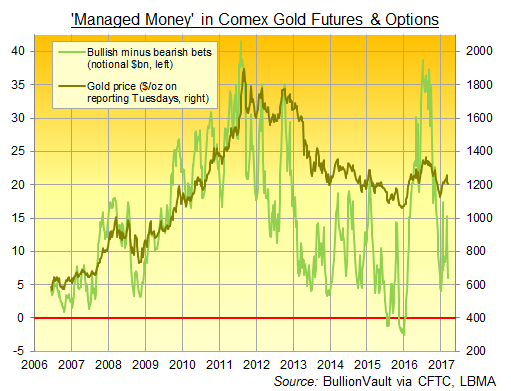 Both the giant GLD gold ETF and SLV silver trust fund products held unchanged in size on Wednesday, remaining at a 1-week and 3-week high of 834 and 10,342 tonnes respectively.
"Gold has surged on the back of the 10-year US Treasury bond yield pulling back," says a technical analysis from French investment and bullion market-making bank Societe Generale, forecasting "another leg of up-move towards $1259/1264, the 200-day Moving Average."
"We saw producer selling [overnight]," says the Australian trading desk of Swiss refiners MKS Pamp, referring to mining companies selling gold "especially in crosses [for non-US Dollar currencies].
"However the yellow metal continued to trade bid during Asian hours," with buyers supporting the price.
With new US home sales data due Thursday, and global manufacturing surveys coming tomorrow, new UK figures this morning said
retail sales jumped 6.2% by value
in February from a year earlier.
Some 2.7 percentage points of that growth came from price inflation however – reported earlier this week at a 5-year high, and creating the sharpest drop in volume growth
since the crash of 2009
according to economist and former Bank of England policymaker Andrew Sentance.
"It is true that headline inflation rates have climbed around the world," said Fed policymaker Neel Kashkari – formerly an assistant at the Treasury during the Lehmans Crash, and now president of the Minneapolis Fed –
defending his lone vote against
the US central bank's rate rise to 1.00% last week.
"[But] that is due to higher oil prices, which can be transitory," explained Kashkari, who will speak for the first time
since the Fed vote
later on Thursday.
"More importantly, core inflation rates in advanced economies continue to come in below their inflation targets."