Gold Price Tries $1530 in Physical Market After Comex Spike to New Euro Record
Tuesday, 8/27/2019 14:33
GOLD PRICES tried for the 4th time in 3 weeks to rise above $1530 per ounce on Tuesday, struggling again with that level as London – center of the world's physical bullion market – re-opened after the UK's end-of-summer August Bank Holiday.
Asian trading in US Comex futures and options contracts briefly saw gold break above that resistance at $1535 per ounce – the market's floor between the all-time Dollar high of 2011 and the crash of spring 2013 – at the very start of this week's action on Monday.
Gold priced in Euros meantime touched a fresh all-time high at €1393, briefly jumping above the September 2012 peak before retreating to that €1380 level.
"Gold has been meeting light profit-taking after hitting technical resistance," says Rhona O'Connell at brokerage INTL FC Stone, but the market "continues to watch geopolitical risk...running higher in Asia yesterday before easing as fresh trade talks appeared to be in the offing."
Bullish betting on Comex gold derivatives by hedge funds and other money managers, net of that group's bearish bets, last week rose to the second highest in history, barely 0.6% below the all-time record high of July 2016, according to Friday night's data from US regulator the CFTC.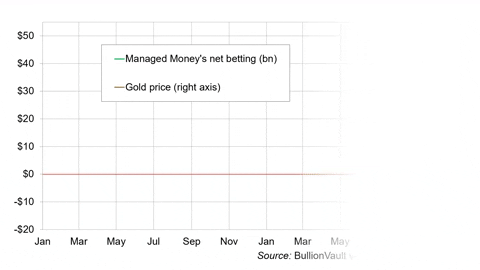 London physical trade on Tuesday saw gold priced in both Euros and the US Dollar hold little changed from yesterday's retreat off those new all-time and 7-year records, trading at €1380 and $1530 per ounce respectively.
Invited to meet by the official opposition Labour Party's Jeremy Corbyn, leaders from Scotland's SNP, the Liberal Democrats, Wales' Plaid Cymru, the Green Party and the so-far untested Change UK called the proposal "excellent...positive and productive".
After Johnson last week traded blame for a possible "no deal" Brexit with European Council President Donald Tusk, officials in the European Union's capital of Brussels overnight told the BBC that the
EU will refuse to begin trade talks
with the newly 'third country' UK in November if London does not pay the "totemic" financial settlement of £39bn already agreed.
London's FTSE100 share index of mostly international corporations lagged other stock markets on Tuesday, holding flat as the Eurostoxx 600 index added 0.5% and Asia closed higher everywhere but Hong Kong.
With retailers and traders reporting a serious drop in business after the 12th weekend of Hong Kong democracy protests descended into violence on Sunday, "We
should prepare for reconciliation
," said Hong Kong's elected chief executive Carrie Lam today.
"Yes, we have to say 'No' to violence [but] at the same time we will not give up building a platform for dialogue."
US retail giant
Costco meantime saw its first Shanghai store prove
so popular on Tuesday's opening, it was forced to close at 1pm as the traffic jams caused by "bargain-hunting customers" led the police to shut roads in the mainland Chinese city's suburb of Minhang.
Leaving the G7 summit in France on Monday with no resolution to the US-China trade war, Washington's President Donald
Trump changed his rhetoric
towards Beijing's President Xi Jinping, calling him a "great leader" only 3 days after calling him
perhaps America's No.1 enemy
.
Trump's offer of a trade deal with Japan has
met only a "tepid response"
in the world's No.3 economy, says the
Financial Times
, due to a lack of details.
Major government bond prices edged higher again on Tuesday, pushing 10-year US Treasury yields down towards 2016's all-time lows around 1.50%.
Commodity prices also edged higher, taking Bloomberg's index of natural resources' costs some 0.7% above August's 19-month lows.