Gold and Silver Rebound from 'Flash Crash' as Oil Sinks on China Virus Curbs and Climate Warning
Monday, 8/09/2021 15:25
GOLD AND SILVER PRICES stabilised from a flash crash to hit 4 and 8-month lows respectively at the start of Asian trading today due to low liquidity and Fed tapering fears, while oil slid further on concerns over new coronavirus related restrictions in Asia writes Atsuko Whitehouse at BullionVault.
Spot Gold tumbled 4.3% to $1688 per ounce, the lowest since 28th March 2021 early Monday morning before recovering three quarters of the loss. The yellow metal crashed out of the summer doldrums falling 2.2% last week, following Friday's solid US employment data.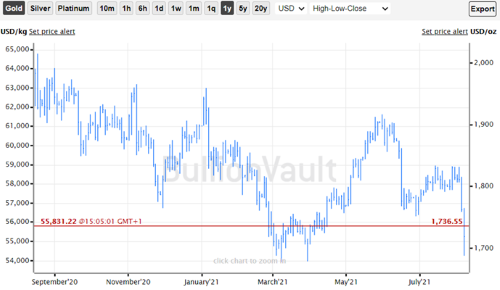 Prices for silver,
primarily an industrial metal, sank further losing as much as 8.6% to $22.22 per ounce, the lowest since 30th November 2020, before clawing back more than the three quarters of the loss. The grey metal sank 3.4% last week.
"Following the weak close on Friday both metals had been left vulnerable into the opening, with the Sunday evening / Monday morning opening often offering a very limited amount of liquidity," says derivatives platform Saxo Bank's Commodity Strategy Team in the latest report.
Holidays in Tokyo and Singapore made for thin trading conditions, adding to today's volatility.
"The Comex low of $1677/oz was much below the OTC low reported by Bloomberg, suggesting that Comex futures liquidation was behind the quick move lower," said
John Reade
, Chief Market Strategist at the World Gold Council.
In the futures market, over 3,000 contracts changed hands in a one-minute window - equivalent to over $500 million notional value - as activity surged in a typically quiet trading period, Bloomberg reported.
"There is not a lot of disagreement on a taper announcement coming sometime between September-December followed by actual tapering sometime between November and January," said
Rodrigo Catril
, a senior FX strategist at NAB.
"I would be supportive of adjusting these purchases soon, but once we start the adjustment process, I would probably prefer to have it be more gradual," said Dallas Fed President Robert Kaplan in an interview with Bloomberg.
Kaplan, however, said not everyone on the Federal Open Market Committee agrees on the timing and pace in the interview.
Oil prices fell by 4% on Monday, extending last week's steep losses of 8% to a three-week low, on the back of a rising US dollar and concerns that new coronavirus-related restrictions in Asia, especially China, could slow a global recovery in fuel demand.
The Delta variant is in half the provinces of China. Public transport and taxi services were curtailed in 144 of the worst-hit areas nationwide, while officials curbed train service and subway usage in Beijing, where three new cases were reported last Wednesday.
A United Nations panel
warned Monday
that climate change and global warming was 'unequivocally' human driven and was growing at an unprecedented rate. This summer we have seen fires across the globe causing deaths, razing homes and destroying forests while parts of Europe suffered deadly floods in July.
The Dollar Index – a measure of the US currency's value versus its major peers – steadied after rising to nearly two-week high in reaction to last Friday's US jobs report.
Ten-year US Treasury yields – a benchmark rate for government as well as many finance and commercial borrowing cost – slipped from the highest in 3 weeks recorded last Friday.
"Traders have been rattled by golds strange behaviour in recent weeks when falling yields failed to boost the price, while last week's small turnaround in yields triggered an immediate and strong negative response," Saxo Bank stated in a note.