Gold Prices Edge Up After Hedge Funds Raise Bearish Bets Despite 'Serious Risks' to Markets from 2019 nCoV
Monday, 2/10/2020 15:14
GOLD PRICES rose $5 in London trade Monday as workers in China started returning to work after the New Year holidays, extended amid the coronavirus outbreak, and government authorities elsewhere warned of the risks it poses to growth, writes Atsuko Whitehouse at BullionVault.
Gold prices touched $1575 per ounce at lunch time in London, while European shares dipped, following Asian markets lower as the official death-toll from 2019 novel coronavirus (2019 nCoV) rose to 908 – surpassing the 2002-03 SARS epidemic – with 97 more fatalities recorded on Sunday alone.
Source of the outbreak, only China saw its stock market rise as the Communist Party lifted some work and travel restrictions, and the central bank provided special funds for banks to re-lend to businesses working to combat the virus.
That expanded on last week's measures from the People's Bank to support the economy, including a cut to interest rates and flooding the money market with liquidity.
"Because of the size of the Chinese economy, significant distress in China
could spill over to US and global markets
through a retrenchment of risk appetite, US Dollar appreciation, and declines in trade and commodity prices," the US Federal Reserve says in its semi-annual report to Congress in Washington.
"The effects of the coronavirus in China have presented a new risk to the outlook."
Back in gold, latest data from US regulator the CFTC show that hedge funds and other leveraged speculators in Comex gold futures and options cut their bullish betting as a group once again in the week-ending last Tuesday, when prices slipped to their lowest since mid-January, and also increased their bearish betting to the highest since June 2019.
Overall, that slashed the net long position of Managed Money traders by 18% to the smallest in 8 weeks.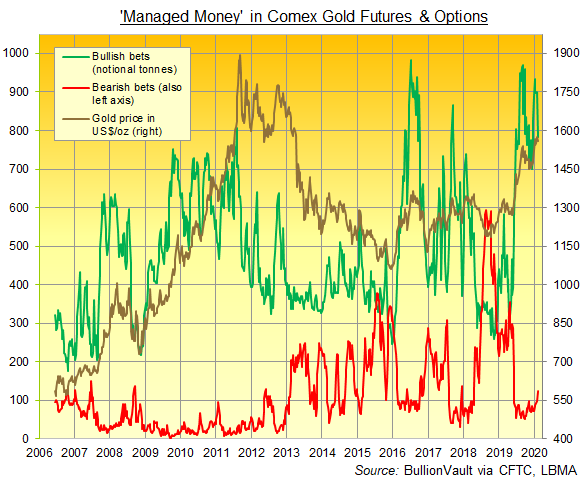 For last week as a whole, however, the giant gold-backed SPDR Gold Trust (NYSEArca:GLD) saw an inflow of 13 tonnes by Friday's close, growing for the 4th week running to its largest size in more than 3 months.
"The fact that gold managed to hold support at $1550 last week while ETF holdings rose to a record [has] calmed the nerves," says derivatives platform Saxo Bank's commodity strategist Ole Hansen, adding that "underlying support [is] still strong."
Fed chairman Jerome Powell will start 2 days of regular testimony on US monetary policy before Congress and then the Senate on Tuesday.
What's being seen in China could be the
"tip of the iceberg" for nCoV
says Tedros Adhanom Ghebreyesus, head of the World Health Organization (WHO).
UK gold prices today edged down to £1216 as Sterling bounced from last week's 1% slide on the FX market amid fresh fears of a no-deal Brexit when the current transition period ends in December.
Gold prices for European investors rose Monday to €1440 per ounce as the race to lead No.1 economy Germany was thrown wide open after Annegret Kramp-Karrenbauer, leader of main governing party the Christian Democratic Union, said she's standing down, leaving Chancellor Angela Merkel with no obvious successor.
The weekend's national elections in Ireland meantime saw a strong result for the left-wing Sinn Féin party, matching the votes won by both of the Republic's traditional main 2 parties and leaving no one able to claim a majority.
Silver again lagged gold, trading little changed after falling for a second week running to $17.70 per ounce.
Platinum prices
meantime fell Monday to 1-week lows at $958 while sister-metal palladium – having doubled in the back half of 2019 – erased an earlier $30 rally to trade back down at $2340, over 7% below last month's new all-time high.