Gold Prices Firm as ECB Seeks 'Robust Inflation' with Negative Rates, Deadly Virus Hits Chinese New Year
Thursday, 1/23/2020 14:13
GOLD PRICES held firm or gained in most major currencies on Thursday, reclaiming a dip below €1400 per ounce – a record high for Euro investors when first hit in September – after the European Central Bank announced no change to its QE money creation of negative interest-rate policy.
Major bond prices rose, pushing longer-term interest rates down, while global stock markets meantime slipped for a third day, retreating further from the latest all-time high on the MSCI AWI set this Monday, as China's communist regime
banned anyone from leaving the city of Wuhan
– source of the deadly coronavirus outbreak now spreading worldwide – at the start of Chinese New Year,
widely claimed
to be the largest annual human migration in the world, with hundreds of millions of people returning to their home towns and villages for family reunions and gift-giving.
Keeping its deposit rate for commercial banks at -0.50%, the ECB again said it will also continue creating and spending €20bn per month "for as long as necessary."
Even though the ECB's balance sheet has ballooned by almost 2 trillion euros since the beginning of 2016, longer-term inflation expectations have continued to trend lower, with German 5y 5y forward breakeven rates falling to 1.3%. https://t.co/xrTz7JOWUm pic.twitter.com/XBnWjLujDW

— Lisa Abramowicz (@lisaabramowicz1) January 23, 2020
Gold priced in Chinese Yuan closed for the Lunar New Year holidays at 2-week highs above ¥347 per gram as the currency fell again on the FX market.
Shanghai premiums slipped to $4.75 per ounce above London quotes, barely half the typical incentive for new imports of gold out of bullion's central trading hub into its No.1 consumer market.
China's CSI300 share index meantime lost 3.1%, and the Hang Seng shed 1.5% after Hong Kong confirmed its first case of coronavirus, which has so far killed 17 people and infected more than 550 as far away as Tokyo and Washington State in the US.
Today's ECB statement said for the 4th time in a row since September that interest rates in the 19-nation Eurozone – the world's second-largest economic bloc by GDP – will "remain at their present or lower levels until it has seen the
inflation outlook robustly converge
" towards the central bank's target of 2% per year.
Thursday's rise in government bond prices cut the annual yield offered to new investors down to -0.28% on 10-year German Bunds – a full half-point lower from this time last January according to Bloomberg data – while 10-year US Treasury yields have fallen a whole percentage point, offering new buyers 1.74% per annum today.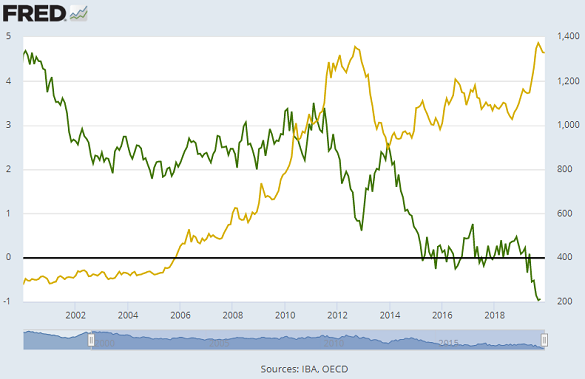 "We saw Chinese interest in [gold] drag the yellow metal lower as longs liquidated heading into the New Year break," says one bullion trading desk in a note.
"[But] gold [then] found an early session bid to move above $1560, breaking above the previous session high."
Silver in contrast struggled on Thursday, slipped to touch a new 4-week low at $17.61 per ounce.
Platinum prices
also held lower for the week so far, trading 1.7% below last Friday's close at $1005 per ounce.
Sister-metal palladium – used mostly in gasoline-engine catalysts and up more than 50% in 2019 on a global supply shortage – meantime sank $100 from Monday's new record high of $2530 per ounce.
Also used to cut harmful emissions from fossil-fuel combustion engines,
rhodium today
ticked its pre-Lehmans 2008 record of $10,250 per ounce after rising 10-fold in 3 years, going vertical on panic stockpiling by Chinese auto-makers ahead of new environmental regulations due from Beijing in 2020.