Gold Prices Slip Ahead of 'Actual Inflation Data' and US Treasury Bond Auctions
Monday, 4/12/2021 14:32
GOLD PRICES edged lower and bond prices fell on Monday, as did global stock markets, keeping longer-term interest rates firm after US Fed chief Jerome Powell unnerved investors with comments on short-term US interest rates ahead of this week's huge auctions of new Treasury debt, writes Atsuko Whitehouse at BullionVault.
Formal statements from the US central bank have repeatedly said it doesn't expect to raise overnight rates from zero
until 2024 at the earliest
.
But asked about the recent rise in bond market rates, "I think it's highly unlikely we would raise rates this year," Federal Reserve chairman Powell
told 60 Minutes on Sunday
.
According to the
CME's FedWatch tool
betting on US interest-rate futures currently sees only a 5.5% chance of any US rate rise this year, half the probability seen last Friday.
But gold prices initially lost 0.6% as the week's trading began in Asia, retreating to $1735 per ounce before rallying only to fall back again following the first weekly gain in three at Friday's LBMA benchmarking.
Global stock markets also fell back after setting fresh all-time highs on the MSCI World Index last week.
Bond-market prices meantime held forecasts for US inflation over the next 10 years at 2.35%, near last month's 8-year highs.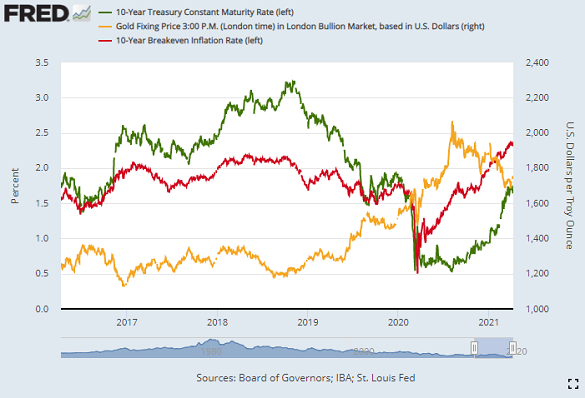 "We can afford to wait to see actual inflation appear before we raise interest rates," Powell said.
"Gold managed to eke out [last week's] gain as bond yields retreated amid dovish commentary from the Fed," says Daniel Hynes, senior commodity strategist at Australasian bank ANZ.
"[Now] Fed chair Powell also shrugged off concerns of inflation, saying it will be temporary [but] the Fed has the tools to deal with it."
The Dollar Index – a measure of the US currency's value versus its major peers – rose 0.1% Monday morning before falling back, but US Treasury bonds held their earlier price drop, nudging 10-year yields up to 1.67%, the highest in 14 months when reached in mid-March.
Today will see Washington raise $96 billion of new loans in 3- and 10-year bonds.
"The large US Treasury supply and the string of likely upbeat US activity and inflation data this week
leave US Treasuries still vulnerable
with spillover risks to Bunds," says German financial group Commerzbank's rates strategist Rainer Guntermann.
Washington's borrowing costs jumped in March after the Treasury Department saw tepid interest for an auction of 7-year notes for the 2nd month in a row, recording a 15-month high at near 1.75%.
Gold prices for UK investors meantime fell 0.4% on Monday to £1266 per ounce as Sterling rose ojn the FX market and shops re-opened from Covid lockdown in England and Wales, with pubs now allowed to serve drinkers outdoors.
European gold prices edged lower to €1463 per ounce as the European Union pushed to accelerate the region's vaccination programs amid the worsening 4th wave of Covid.
India's stock market this morning led equity losses in Asia-Pacific on the back of a surge in Covid-19 infections in the sub-continent, logging more than 168,000 new cases in 1 day.
Due to both lower price and the government's cut to gold bullion import duty, Indian gold imports surged 471% year on year to 160 tonnes in March, a monthly inflow not seen since August 2015 according to specialist analysts Metals Focus.
Gold prices on China's Shanghai Gold Exchange meantime continued to show a premium to London on Monday, offering new imports an incentive of almost $10 per ounce in the metal's No.1 consumer market.