Gold ETFs Set for 1st Monthly Expansion in 8 as Bitcoin's Volatile Losses Continue
Monday, 5/24/2021 14:45
GOLD PRICES held firm near 4.5-month highs Monday lunchtime in London, trading around $1880 per ounce after investors made net inflows to gold-backed ETF trust funds, speculators grew their bullish bets further on Comex derivatives, and crypto-currency Bitcoin hit more extreme volatility over the weekend, writes Atsuko Whitehouse at BullionVault.
The spot gold price rose another 0.5% in early trade to reach $1882 per ounce – its highest since early January – after rising 3 weeks in a row.
"After this recent run, gold is ready for a correction," says the latest daily gold-price and precious metals note from Rhona O'Connell at brokerage Stone X Group Inc.
"But the overall atmosphere in the market remains positive, reflecting economic and geopolitical uncertainties."
But Russia's neighbor and ally Belarus was condemned by European Union leaders after it used a warplane – plus a lie about a terrorist bomb plot – to force a civilian plane flying from Greece to Lithuania to stop in Minsk, where a journalist critical of the Lukashenko government
was abducted
along with 4 other passengers.
Friday saw the 2 largest
gold ETFs
expand for a third week running, with the SPDR Gold Trust (NYSEArca: GLD) and the iShares gold ETF (NYSEArca: IAU) growing by 1.4% and 0.5% respectively.
Both the GLD and IAU are now heading for their first monthly growth since September 2020.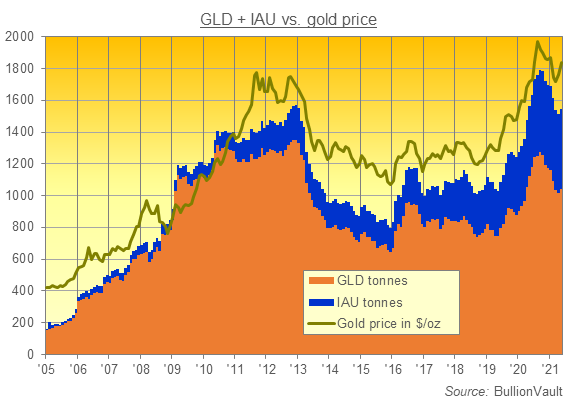 "The recent increase in the number of gold ETFs has been driven by the reverse flow of funds from Bitcoin to gold," reckons Bruce Ikemizu, chief director of the
Japan Bullion Market Association
.
"The current volatility – mostly declines – has raised doubts about the role of the crypto asset, which some people had expected to play the same role as gold as a hedge against inflation."
"The place of Bitcoin in any investment portfolio remains highly contested,
precisely because
of its erratic price movements," agree French bank Societe Generale's Alain Bokobza and Arthur Van Slooten in a note.
SocGen's multi-asset portfolio currently holds a 5% weighting to gold "as a stabilizer".
Bitcoin slumped by nearly 1/5th on Sunday after Beijing reiterated its crackdown on cryptocurrency mining in China.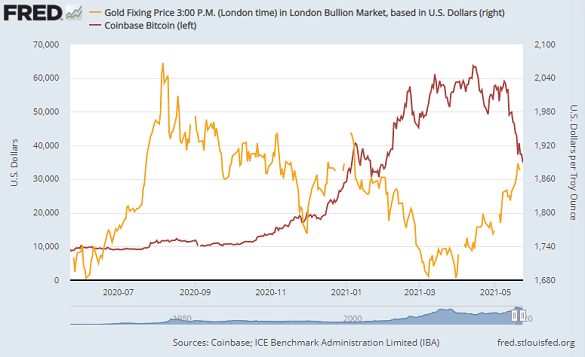 Back in gold, latest data show that hedge funds and other leveraged speculators in Comex gold futures and options grew their bullish betting for the 5th week in a row as a group in the week-ending 18th May, while cutting their bearish betting 3 weeks in a row.
Overall, that pushed the net long position of Managed Money traders 12% higher to the largest in 4 months.
Speculators however cut their net bullish betting on silver for the first time in7 weeks, according to US regulator the Commodities Futures Trading Commission (CFTC), and cut net long positions on
platinum prices
for the 3rd week running.
Prices for silver, primarily an industrial metal, rose 0.5% to $27.69 per ounce Monday, while platinum – which find two-thirds of its demand from industrial uses – edged 0.2% higher to $1174 per ounce, after falling almost $60 last week.
Bloomberg's industrial metals subindex meanwhile declined for a 4th day to reach a 1-month low as Beijing's Communist dictatorship repeated its aim of capping soaring commodity prices by targeting "speculation".
The implied rate of US inflation across the next decade dropped to its lowest in a month at 2.41% on Treasury bond pricing, down steeply from the
fresh 8-year high of 2.55%
per annum reached last Monday.
The Dollar Index – a measure of the US currency's value versus its major peers – dipped lower towards a new 4.5-month low.
With much of Europe shut for Pentecost, stock markets traded in a tight range near their recent record highs while Wall Street futures pointed 0.5% higher.