Gold Bullion Loses $10 Pop 3rd Day Running as Oil Jumps 8% on Opec 'Agreement'
Wednesday, 11/30/2016 13:35
GOLD BULLION again gave back a $10 overnight pop on Wednesday in London, falling back to last week's finishing level at $1183 per ounce for the third session running as world stock markets rose and oil prices jumped on rumors of an Opec output cut.
Western government bond prices slipped, driving
10-year US Treasury yields
back above 2.34% to extend their third fastest month-on-month rise of the last decade following Donald Trump's victory in the US presidential election.
Trump
announced on Twitter
today that he will hand all control of his business empire to his children and advisors in mid-December, apparently responding to growing criticism
over the conflicts of interest
due to start with his presidency on 20 January.
Crude oil prices meantime jumped as much as 8% – briefly trading above $50 per barrel of Brent for the first time in a week – on news-wire reports that the Opec cartel of major producer nations is close to agreeing a cut to output in a bid to stem the half-decade slide in energy values.
Rising food prices pushed inflation across the 19-nation Eurozone up to a 2.5-year high last month, albeit at 0.6% per annum on new data today.
Silver held firmer than gold bullion on Wednesday, adding 50 cents per ounce from its 5-month lows at $16.17 of last week as broader commodity markets including copper rose with oil.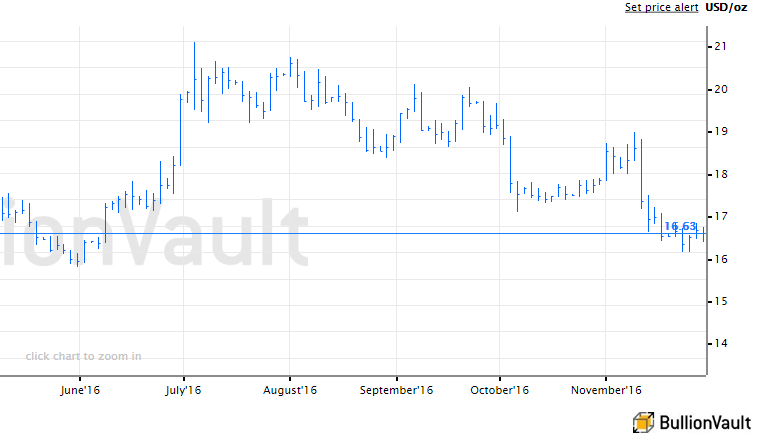 "Support comes in at $1171.60 – [the] recent low," says the latest technical gold price analysis from Canada-based finance giant Scotiabank's New York bullion desk, "while resistance remains unchanged at the $1200 level.
"Momentum and [other chart] indicators are bearish and risk remains to the downside."
Rumored at 4% of October's record-high Opec output – "climb[ing] for five months running," according to the
International Energy Agency
, "led by Iraq and Saudi Arabia" – the crude oil quotas apparently being agreed in Vienna will also see a cut of perhaps 1% in non-Opec production,
led by Russia
.
After world #1 Saudi Arabia was challenged by neigbors Iran and Iraq over its threat to quit the talks, "There will be a production cut, agreed by everyone, with quotas for countries," Bloomberg quotes Algerian energy minister Noureddine Boutarfa today.
Italy's stock market rallied Wednesday
after its banking sector fell hard
yesterday amid fresh opinion polls saying Prime Minister Renzi may lose this coming weekend's referendum on constitutional reform – now widely seen as a vote on the country's broader governance, including its membership of the Euro.
Here in London, a drop in commercial real estate prices –plus the UK's current account deficit with the rest of the world, and growing household debt – poses the
biggest threats to UK financial stability
, the Bank of England said today, warning of "potential for further Sterling depreciation."
The Pound today traded 6% above last month's new record low on the Bank of England's current Sterling Index, but remained -14% for 2016 to date.
Gold bullion priced in Sterling retreated below £950 per ounce for the third time in a week, trading near its lowest level since surging 22% as the UK's Brexit referendum decision to quit the European Union became clear on 24 June.