Gold Bullion Rallies Near $1100 But Spec's Turn Bearish, Big ETF Shrinks, China Imports Fall
Monday, 7/27/2015 17:15
GOLD BULLION recovered a $10 loss in London on Monday to trade just shy of $1100 per ounce – a new 5-year low when first hit last week – as Western stock markets fell following the 2nd heaviest-ever drop in China's main equity index.
The Shanghai Composite dropped 8.5%, reversing half of its recent bounce from June's 35% plunge.
Eurozone stock markets fell over 2% as the single currency rose on the FX market, pushing the price of gold bullion for German, French and other monetary union citizens back towards Friday's new 2015 lows at €982 per ounce.
Wholesale gold priced in Dollars had earlier dipped below $1090 per ounce after news of stronger-than-expected orders for durable goods in the US, but rallied with
silver prices
to stand unchanged by the close of London dealing on Monday.
"Gold managed a late rally on Friday evening on the back of a weakening Dollar and end of week short covering," says London brokerage Marex Spectron in a note.
"It is possible," says bullion bank and London market maker Scotia Mocatta, "that we will see a small relief rally in the coming days, but ultimately the risk is to the downside."
"The latest CFTC [positioning] data show the extent to which gold has lost its lustre," says Chinese-owned ICBC Standard Bank's London team, "with the net speculative position still long, albeit not by much, with speculative shorts climbing to a fresh record high while longs trudge towards the exit.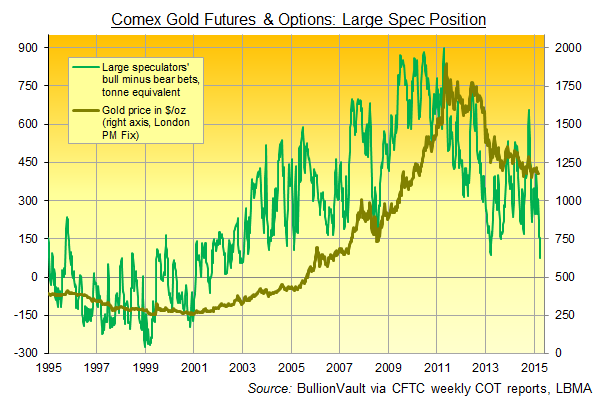 "While the record short position opens up the scope for a significant short covering rally," says ICBC Standard Bank, "the trigger seems somewhat elusive.
"Physical purchasing activity out of Asia is also backing off and appears to be waiting for a price floor to emerge while ETF liquidation is adding to the downwards pressure."
The giant SPDR Gold Trust (NYSEArca:GLD) has now shed 31 tonnes this month so far from the bullion needed to back its shares, the fastest pace since December 2013 capped that year's huge outflow of metal.
Net imports of gold bullion to China through Hong Kong, adjusted for re-exports, fell in June to a 10-month low of 22.1 tonnes, Bloomberg reports.
Gross imports to China were "the lowest since June 2011 according to the latest Hong Kong customs data," says Jonathan Butler at Japanese conglomerate Mitsubishi Corporation, "support[ing] our thesis that physical gold demand in China is cooling due to lower jewellery offtake amid the economic slowdown and recent stock market rout."