Selling Pressure 'Slowing' in Wholesale Gold Bar Market as Price Holds 6-Year Low
Wednesday, 11/18/2015 15:07
GOLD BARS traded in the global wholesale market held above yesterday's near-6 year lows Wednesday in London, as Western stock markets recovered earlier sharp losses and the US Dollar edged back on the currency market ahead of today's release of notes from the Federal Reserve's latest "no change" policy meeting in October.
Rising $5 per ounce to $1070, gold traded in large, professional-market accredited bars yesterday marked "the 21st trading day in the past 24 sessions [of] showinga 'Down Day' in North America[n trade]," says a technical analysis from bullion bank Scotia Mocatta's New York team.
British Pound gold prices today held £10 per ounce above end-July's 5.5-year low of £693 – a level first crossed in November 2009 on the way up.
Priced in Euros, wholesale gold bars briefly touched last Thursday's 5-week low at €1000 per ounce – some 16% above the low set by the crash of 2013.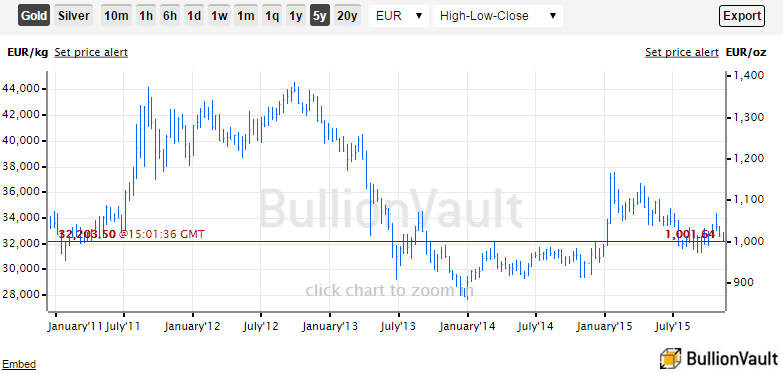 Eurozone bond prices edged higher Wednesday, pushing borrowing rates down for states everywhere in the 19-nation currency zone except Greece, which saw 10-year yields rise again from last week's 1-year low to 7.25% per annum.
Germany today raised €4.37 billion in 2-year loans at a record-low interest rate of minus 0.38% per year.
"Gold Forwards have moved into backwardation on the front-end of the curve," says one London bullion bank sales-desk, with "physical demand helping" to raise nearer-term gold prices above contracts for settlement up to 2 months away.
Exchange-traded trust funds enabling investors to track gold prices "have [meantime] started adding gold again," the note goes.
"It feels like selling pressure in the [wholesale gold bar] market is softening [and] there surely is a level at which to enter."
Chinese "consumers are buying more gold because of the price," said half-million ounce gold miner Oceanagold's CEO Mick Wilkes to Reuters at a conference in Manila today.
"I think ...the country's demand for gold and [China's state] gold reserves will continue to grow."
But "I just don't think it's a demand equation that'll make a big impact" on prices, Jake Klein of fellow half-million-ounce Australia-based gold producer Evolution Mining Ltd. told a Bloomberg conference in Sydney.
"Yes there'll be increased physical demand, but the gold market is so dominated by financial issues, inflation and the US Dollar, that it's not going to make a huge difference."
Silver wholesale bars meantime fell near new 6-year lows in London trade Wednesday, touching $14.08 per ounce – just 8 cents above late-August's low.