Euro Gold Hits Post-Trump High as 'Flight to Quality' Tracks Le Pen's French Poll Ratings
Wednesday, 2/22/2017 13:52
GOLD PRICES in London's wholesale market held firm against a rising US Dollar on Wednesday, gaining versus the Euro and British Pound as world stock markets struggled to follow Wall Street higher amid fresh worries over France's looming presidential election.
Closing at fresh all-time highs last night, New York's S&P500 index has already reached the average analyst's year-end 2017 forecast, reports Bloomberg, gaining 5.5% so far.
Silver prices
slipped Wednesday with commodities, dipping below $18 again.
Gold in contrast rose towards $1240 per ounce – adding 0.4% for the week so far – even as the US currency gained ahead of today's release of meeting notes from the Federal Reserve's latest policy vote.
The gap between French and German government bond yields meantime widened again as OAT prices rose more slowly than Bunds, taking the spread near a 5-year record.
With the first round of France's general election set for mid-April, nationalist candidate Marine Le Pen has attracted 2 million women voters who abstained from the 2012 ballot, says research from France's Sciences Po institute in Paris, backing her "to protect their jobs and their security."
Two of Le Pen's personal bodyguards were today taken into police custody over allegations she paid them illegally using public funds – an investigation she has blamed on a "political cabal".
Now neck-and-neck with her two main rivals in France's opinion polls, Le Pen has promised a "return to monetary sovereignty" for the Eurozone's second-largest economy.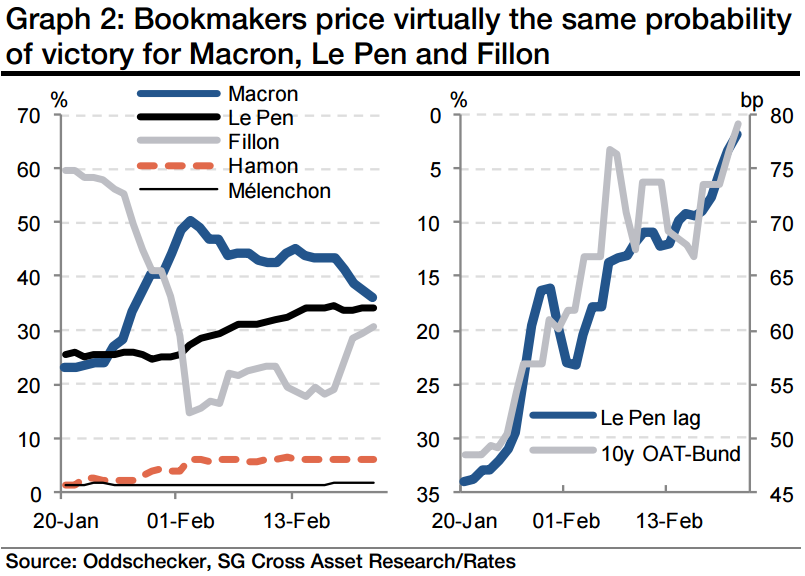 New data today
cut the UK's earlier GDP growth report
for Q4 2016 from 2.2% per year to 2.0%, with business investment falling across the year for the first time since the global finanial crisis of 2009 as the British electorate voted 51.9% to 48.1% to quit the European Union in last June's Brexit referendum.
Sterling gold prices rose Wednesday back to last week's finish at £995 per ounce as the Pound lost almost 1 cent to the Dollar, dropping towards the bottom of this month's converging range near $1.24.
But the single currency Euro fell harder however, dropping against the Dollar for the 4th session running – and dipping below $1.05 for the first time since mid-January – despite strong German economic confidence data following yesterday's 6-year high in the Markit Composite PMI survey of Eurozone business activity.
That pushed gold priced in the Euro up to €1179 per ounce, its highest level since November 9th's huge swing on Donald Trump's election as US president.
"The economy is flexing its muscles," says Societe Generale's latest Rates Strategy note from the French investment bank's fixed-income analysts, "but the market remains obsessed with the French election.
"As we've said before, the OAT-Bund spread is tracking the rise in Le Pen's implied win probability at the bookmakers...The recent price action [is] suggesting some panic flight to quality."
Inflation across the 19-nation Eurozone
rose to 1.8% per year
last month, new data confirmed Wednesday. But stripping out volatile fuel and food prices, the so-called 'core' index of consumer prices rose only 0.9% from January 2016, holding the pace of inflation unchanged on Eurostat's figures.
"The main weight on the Euro is presently
not economic but political
," writes US private bank Brown Brothers Harriman's head of currency strategy Marc Chandler.
"Recent developments in France underscore our argument that the success of the populist-nationalist forces requires some sort of help from the mainstream parties. This was clearly the case in the US and UK, where no populist party was elected, but instead, the populist agenda co-opted by the center-right."
With French center-left candidate (and former investment banker) Emmanuel Macron "
shooting himself in the foot
," says Chandler, as Italy's 5-Star Movement proves that "populism-nationalism...may work better as in opposition rather than as a governing party," these political events "trump the Eurozone economic data...which shows steady to stronger growth."