Silver Prices Jump, Gold Ratio Sinks as Bond Yields Hit All-Time Low for UK and Italy
Wednesday, 8/28/2019 13:42
SILVER PRICES again outpaced gold in London trade Wednesday, hitting 29-month highs as the dearer precious metal held $10 below this week's spike to new 6-year highs on a fresh fall in longer-term interest rates across the rich Western economies.
US bond yields fell to new 3-year lows as debt prices rose amid another drop in world stock markets.
The UK's 10-year borrowing cost fell to new all-time lows of just 0.34% as Prime Minister Boris Johnson moved to close Parliament ahead of the 31st October Brexit deadline, spurring accusations of "a very British coup" by opposition politicians.
Italy's borrowing costs meantime hit new all-time record lows on hopes of a new coalition government in Rome.
While the leading silver-backed ETF product – the iShares Silver Trust (NYSEArca: SLV) – ended yesterday unchanged in size, Tuesday saw the world's largest gold-backed ETF trust fund – the SPDR Gold product (NYSE: GLD) – expand to need an additional 13.5 tonnes, the heaviest 1-day growth since mid-June.
The Gold/Silver Ratio however fell to new 5-month lows Wednesday morning as the cheaper metal extended yesterday's 4% gain to touch $18.50 per ounce for the first time since New Year 2017.
Even with gold rising back to $1546, that squashed the yellow metal's relative value below 84 ounces of silver, the lowest Gold/Silver Ration since mid-March.
So far in August
silver prices
have risen 13.8% versus gold's 9.6% rise in US Dollar terms.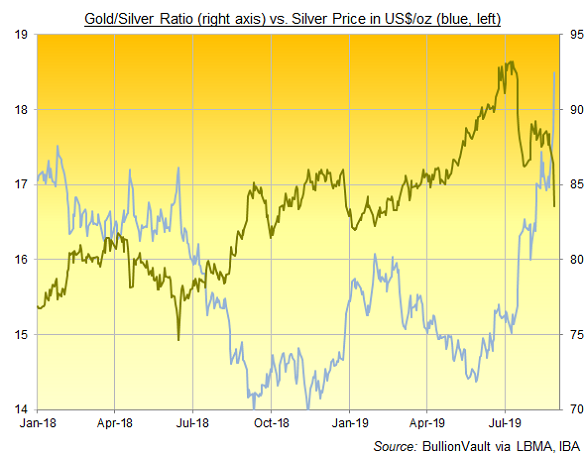 Proroguing Parliament would reduce the time for opposition MPs to block a "no deal" Brexit on Halloween, Johnson's repeated aim should he fail to win any concessions from the European Union on the Withdrawal Agreement already proposed.
Called "a threat to our democracy" by opposition Labour leader Jeremy Corbyn, a "constitutional outrage" by House of Commons speaker John Bercow, and
"a coup d'etat"
by one German think-tank, most of Johnson's prorogation
would in fact coincide
with the shutdown already booked thanks to the Conservative, Labour and Liberal Democrats' annual party conferences.
UK gold prices in Pounds per ounce spiked within £5 of mid-August's new all-time high at £1271.
The Euro gold price moved faster however, touching a fresh all-time high above €1396, as the yield on Italy's 10-year BTP fell below 1.00% for the first time in the bond's history on news that opposition centrist party
the PD wants to form a coalition
with the left-leaning M5s, ousting right-winger Matteo Salvini's Lega from government and inviting Guiseppe Conte to return as Prime Minister, leading to a "more sensible fiscal policy".
Donald Trump meantime tweeted that the
New York Times
has
an "infestation of bedbugs"
after accusing "Radical Left Democrats" of spreading reports of just such a problem at the President's own Mar-a-Lago resort – put forward by the celebrity real-estate tycoon as a possible venue for the 2020 G7 summit of developed-world leaders.
Rather than slashing US interest rates as Trump demand, "[The Fed should not] enable the Trump administration to continue down a disastrous path of trade war escalation," says former New York Federal Reserve President Bill Dudley in an op-ed at Bloomberg, sending instead "a clear signal that if the administration does so, the President, not the Fed, will bear the risks — including the risk of losing the next election."
Silver has now gained 30.0% against the Euro from this time 3 months ago and risen 40.8% versus the British Pound since hitting 2-year lows last summer.