Gold Trading Flat vs. Falling Dollar as China GDP Slows to 3-Decade Low, UK Parliament to Vote on Brexit
Friday, 10/18/2019 14:20
GOLD PRICES showed no change for the week against a falling US Dollar in Friday afternoon's trading in London, holding at $1490 per ounce as world stock markets struggled following news of China's weakest economic growth for at least 27 years.
Western government bond prices slipped, edging longer-term interest rates higher and putting 10-year US Treasury yields unchanged for the week at 1.75% per year.
Shanghai's stock market fell 1.4% for the day while gold premiums in China – measuring the incentive for new imports of bullion – traded down to $4 per ounce, less than half their historic average.
The Dollar meantime extended the last 3 week's 2.0% drop to hit new 7-week lows against the world's other major currencies ahead of today's monthly US government deficit – already widened to
more than $1 trillion for 2019
's fiscal year.
China's official estimate of GDP showed the weakest annualized growth since 1992 – when data began – at 6.0% for the July-September period.
Since joining the World Trade Organization and also starting to liberalize its domestic gold market in 2002, China has become the world's No.2 economy and No.1 gold miner, consumer and importer.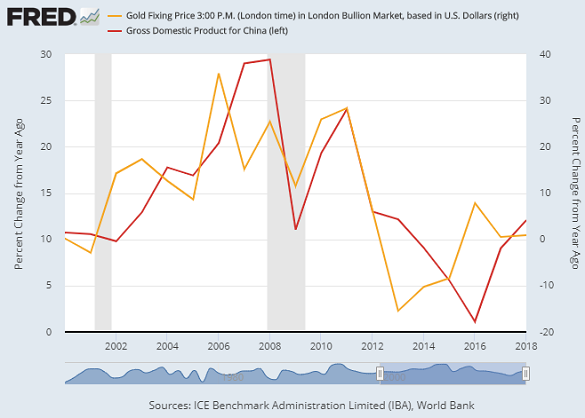 Gold trading volumes on the Shanghai Gold Exchange – the legal entry route for all gold into China's private circulation – have reached new all-time records in 2019, rising 41.1% so far from the Jan-Sept period last year, with the SGE's main gold contract seeing an average 55.8 tonnes change hands each day.
"This year is the first time that Chinese gold investing has
participated in a global rally
" for prices and trading, said the World Gold Council's John Reade, chair of the 2019 investment panel at the annual LBMA conference.
"Authorities will loosen policies, but in a more restrained way," reckons Hwabao Trust economist Nie Wen in Shanghai, because "the downward pressure on China's economy is likely to continue [with] exports unlikely to stage a comeback and a possible slowdown in the property sector."
A large monetary or fiscal stimulus is unlikely, agreed
FT
columnist James Kynge, speaking at this week's LBMA precious metals conference in China's manufacturing hub of Shenzhen, because it would only worsen China's record-high residential real estate prices –
now the highest in the world
at 11.9 times average incomes.
Beijing's Ministry of Commerce meantime says it wants to finalize a trade deal with the United States "as soon as possible".
A raft of European goods
today become subject to 25% import tariffs
in the US, including Britain's single-malt Scotch, dairy products, pork, and Saville Row suits, after Washington's victory at the WTO over unfair European Union subsidies to the Airbus aircraft manufacturer.
Euro gold prices today slipped 0.7% from last Friday's level, trading at €1339 per ounce as the EuroStoxx 600 index of equities held little changed for the week, as was New York's S&P500 index of US stocks.
Turkey's President Recep Tayyip Erdoğan today dismissed
reports of shelling
in northern Syria as "
disinformation
", saying the "safe zone" and cease-fire with Kurdish opponents agreed with US vice-president Pence and Secretary of State Pompeo in Ankara yesterday were still in place.
US President Donald Trump – widely seen inviting Turkey to invade northern Syria by pulling US troops out of their alliance with Kurdish forces against the ISIS terrorist army – last night
likened the new conflict to a playground fight
.
Thousands of protesters in Beirut meantime marched for the second day running to demand a change of government amid Lebanon's worsening economic slump.