Gold Trading Leaps 50% in London, Comex Betting Near Record as Stock Markets Struggle
Tuesday, 7/09/2019 14:01
GOLD TRADING in London's wholesale bullion market saw prices bounce $5 above last week's lows, rising as world stock markets extended yesterday's drop in US equities.
Trading down to $1382 last Monday and Tuesday – some 3.9% below the prior week's new 6-year high in US Dollar terms – gold prices today slipped to $1387 before turrning higher.
Late June's price jump saw gold trading volumes through London's wholesale market reach more than 45 million ounces per day, new data from trade body the London Bullion Market Association said Tuesday.
That was more than 50% above the average daily volumes since the Association launched its member-wide
LBMA-i
reporting project in November.
Open interest in Comex gold derivatives meantime rose last week to the second-highest total ever, data from US regulator the CFTC said Monday, extending its jump above the equivalent of 1 million futures contracts, each trading the notional value of 100 ounces.
That's just one-third of one percentage point smaller than the record number set as gold prices traded up towards their current all-time high of $1920 amid the US debt downgrade, Eurozone debt crisis and English riots of August 2011.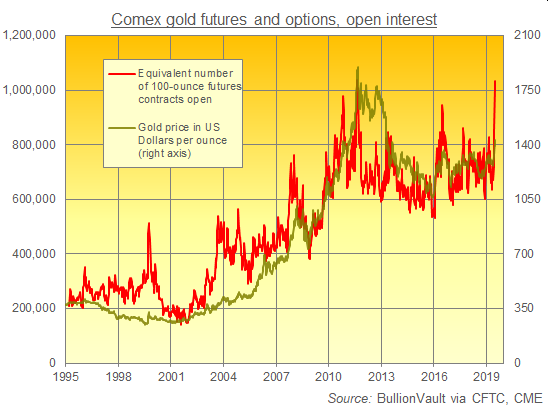 Trading at Shanghai's official gold benchmark auction today saw prices slip to 5-session lows of ¥311 per gram, some 2.5% below late June's 6-year peak.
But with the Yuan holding firm against the Dollar, that still edged Shanghai premiums – for metal landed in the metal's No.1 consumer nation – up to $13 per ounce above London quotes, some 45% greater than the typical incentive for new imports.
The British Pound meantime slipped on the FX market, as did London's FTSE All-Share stock index, after UK opposition leader Jeremy Corbyn gave into 'moderate' Labour colleagues and said the party, besides demanding a referendum on the terms of Britain's exit from the European Union – now scheduled for Halloween –
will campaign to remain in the EU
but only against "no deal or a damaging Tory Brexit."
Euro gold prices also held over 2% below last month's new multi-year highs, trading at €1243 per ounce.
Turkey's opposition CHP party meantime blasted President Erdogan for sacking its central bank chief, saying "This regime has
done things even military coups could not
...[and] officially put an end to the independence of the central bank.
"Now, the single-man regime will be able to put in effect self-proclaimed interest rate theories," the CHP's senior spokesman went on, referring to
Erdogan's repeated claims
that high interest rates cause inflation.
Erdogan's former deputy Prime Minister in the world's No.5 gold-consumer nation, Ali Babacan, meantime said
he's resigning from the ruling AKP
and hinted at launching a new party, citing the need to "initiate a new project for Turkey's present and future."
Over in India – the No.2 gold consumer nation, where Narendra Modi's BJP government last week dismayed bullion and jewelry dealers by
raising gold import duty
instead of cutting it – shares in the giant Titan jewelry group
sank over 13% on Tuesday
after it reported weak quarterly sales growth, blaming this spring's record-high gold retail prices for Indian households.