Gold Price Jumps to 1-Month Highs Near $1300 as Europe Joins US-China Trade War
Monday, 5/13/2019 14:27
GOLD PRICES jumped to 1-month highs just $2 shy of the $1300 level Monday lunchtime in London as the US-led trade war intensified with China and Europe, writes Atsuko Whitehouse at BullionVault.
Spot gold jumped to $1298 per ounce and China's Yuan currency sank 0.9% – its biggest drop in almost 10 months – as both Beijing and the European Union said they are finalizing a list of US goods to target with extra trade tariffs in response to Washington's latest moves.
Despite ride-hailing app
Uber's stock falling
below its $45 flotation price on Friday, "Markets are still living in some form of
half-glass full optimism
, but that is likely to erode with time as the reality of a full-blown trade war sinks in," reckons Howie Lee, economist at Singapore's OCBC Bank.
"I expect demand for gold to gain traction in the coming weeks."
Last week's $7 rise in Dollar gold prices saw the giant SPDR Gold Trust (NYSEArca: GLD) shrink by 1.0% in size as shareholders liquidated stock in the world's largest
gold-backed ETF
.
Hedge funds and other speculators in Comex gold futures and options, in contrast, increased their bullish betting for a 2nd week running in the week-ending last Tuesday.
Net betting by the Managed Money category was still only 17% of its historic average however on data compiled by
US regulators the CFTC
.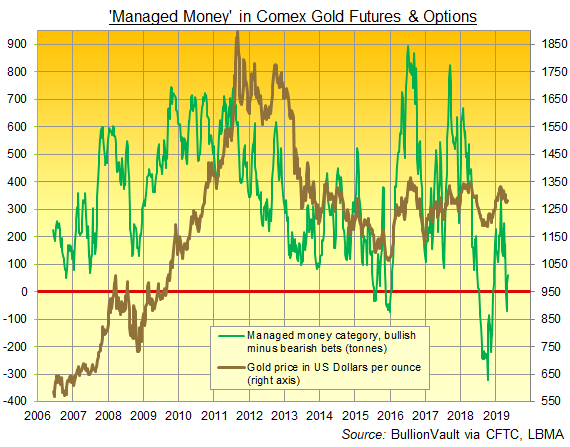 Following the end of unsuccessful trade talks over the weekend, and responding to last week's
sudden US imposition of 25% tariffs
on another $300 billion of its goods, China will target $60bn of US imports with extra charges from 1st June.
The EU will meantime impose higher tariffs on $23bn of US goods if President Trump decides as expected to levy a charge on $50bn of European car imports from the end of this week.
"Our general point of view is clear: We need fewer tariffs, not more," said Germany's economy ministry today.
"We don't think the Chinese have come far enough. We will wait and see. The
talks will continue
," said Larry Kudlow, director of Trump's National Economic Council.
Silver and
platinum prices
also reversed overnight falls lunchtime Monday in London, but both struggled to recover Friday's closing levels at $14.79 and $865 per ounce respectively.
Marking the start of PGM metals annual trade event Platinum Week, specialist refiners and technology group Johnson Matthey said Monday morning that strong industrial and investment buying in 2019
should see the platinum market revert to a "deficit"
of supply lagging demand.
Mining-backed group the World Platinum Investment Council (WPIC)
also sees a surge in investment demand
, cutting the excess of supply over demand but still leaving the market in surplus on its data.
A jump in demand by institutional investors for platinum ETFs in the first quarter has dramatically changed the outlook, said Trevor Raymond, director of research at the WPIC.