Gold and Silver ETFs 'Driving Prices' as UK Court Finds Closing Parliament 'Unlawful' Ahead of Brexit
Tuesday, 9/24/2019 15:41
GOLD PRICES lost and then regained $5 per ounce to hold a small rise for the week so far Tuesday afternoon in London, trading above $1520 as world stock markets cut earlier gains, bond yields fell, and the UK's Parliament was recalled to discuss Brexit after a historic decision against the Government in the Supreme Court.
Silver prices meantime fell hard from a near 3-week high, while platinum – which finds its heaviest single use in autocatalysts to reduce harmful emissions from diesel engines – held unchanged amid news that chief executives from German auto-giant VW will
face "market manipulation" charges
over their role in the Dieselgate Scandal.
"Gold now above the 10-day moving average again and through $1520," writes head analyst Rhona O'Connell at US brokerage INTL FC Stone, "while silver is looking at challenging $19."
Calling exchange-traded investment trust demand "market movers" for the 2 precious metals, O'Connell cites data showing that year-to-date,
gold ETFs
have absorbed 10.5% of daily world mine output, while silver ETFs has so far matched 17.1% of world mining production.
"This is sizeable [for silver], but not enough to put much of a dent in identifiable non-ETF aboveground stocks."
Monday's action saw no change in the size of either the giant silver-backed iShares product (NYSEArca: SLV) nor the lower-cost gold ETF trust fund from iShares (NYSEArca: IAU).
But the largest such metals-backed trust, the SPDR Gold product (NYSEArca: GLD) expanded to need another 14.4 tonnes of bullion behind its shares, taking the total to its highest since November 2016 at more than 908 tonnes.
Coming on the back of Friday's 10.6-tonne expansion in the GLD, that marks the first back-to-back sessions seeing 10-tonne inflows in over 3 years.
Early Asian trade on Tuesday took silver prices up to $18.75 per ounce, but the metal then slid back 40 cents in London.
That top pushed the
Gold/Silver Ratio
down to its lowest in 3 weeks, with one ounce of gold briefly costing the same – at wholesale spot prices – as 81.2 ounces of the more industrial precious metal.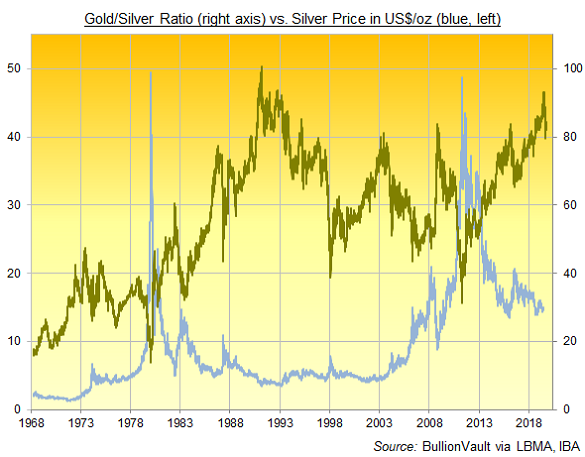 "Month-to-date gold purchases so far [are] dominated by
inflows into US-listed ETFs
," notes market strategist John Reade at the mining-backed World Gold Council.
The
UK gold price in Pounds per ounce
meantime peaked and tumbled by £10 today, dropping from 2-week highs to erase all of Monday's gain after the Supreme Court in London ruled that the Government of Boris Johnson was wrong to shut Parliament this near to the 31st October deadline for Britain exiting the European Union.
"The Prime Minister's advice to Her Majesty [to end the current session of Parliament] was unlawful, void and of no effect,"
the 11 judges agreed
. "Parliament has not been prorogued."
With gold prices trading back down at £1215 – still 7.0% higher from 2 months ago, when the former newspaper journalist became Prime Minister by becoming leader of the minority Conservative Government – "Clearly the claimants in this case are trying to frustrate Brexit," Johnson told the BBC.
Speaker of the Commons John Bercow announced that Parliament will resume at 11:30am on Wednesday. Opposition leader Jeremy Corbyn brought forward and cut short his speech to the Labour conference in Brighton, where a controversial count of hands yesterday concluded that
members rejected a motion
calling for the party to stand on a Remain platform in the likely General Election ahead.
Johnson yesterday met French President Macron and Germany's Chancellor Merkel to discuss Brexit, but found their time
dominated instead by Iran's apparent role
in last week's drone attacks on key oil facilities in Saudi Arabia.
US President Donald Trump was today set to address this week's General Assembly of the United Nations in New York, calling for unity in punishing Iran.