Gold Price Gains 'But Look to Silver' as ECB Delays Help for Negative-Rate 'Side Effects'
Wednesday, 4/10/2019 16:12
GOLD PRICES rose against all major currencies in London on Wednesday, trading up to 2-week highs above $1306 per ounce as the European Central Bank left its key interest rate negative but failed to offer new stimulus for the 19-nation currency bloc.
World stock markets edged higher with major government bond prices.
Crude oil meantime edged up to new 5-month highs above $70 per barrel of European Brent as Africa's 5th largest producer Libya saw warlord Khalifa Haftar – head of the so-called Libyan National Army (LNA) – continued to attack forces of the recognized government in Tripoli.
"One needs to search for relatively under-owned late-cycle inflation hedges that can piggy-back recovering stock markets," reckons the latest monthly note from Canadian financial group and bullion bank Scotia.
"Gold should do well under that thinking, but there are other higher-beta real assets – such as platinum, copper and silver – that have better upside potential, given [the] ultra-accommodative pivot by global central banks."
Platinum struggled around last weekend's $900 per ounce level on Wednesday, holding a 13.0% gain for 2019 so far against gold's 2.0% rise.
Copper also held flat with a 2019 rise-to-date of 8.6%, but
silver prices
kept a 20 cent loss at $15.25 per ounce, unchanged from this time last month.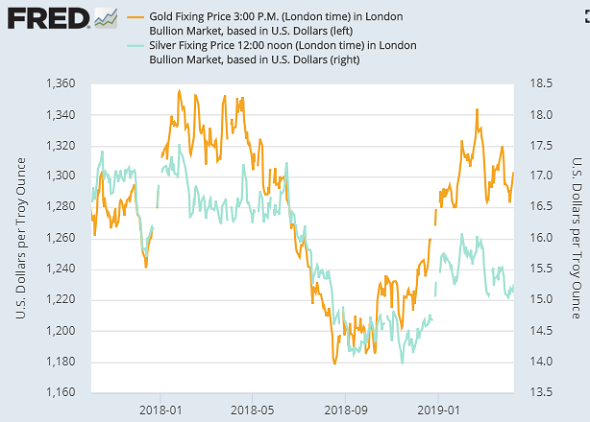 Delaying further details of the European Central Bank's already promised LTRO loans until future ECB meetings, "the precise terms" of these targeted longer-term refinancing operations, said ECB President Mario Draghi, "will consider" whether the "favorable implications" of negative interest rates
need "mitigation of their possible side effects"
on commercial lenders.
Having dipped below €1155 this morning, the gold price in Euros jumped 0.7% as Draghi spoke on Wednesday, setting new 2-week highs at what was the best since April 2017 when reached this February.
While perhaps inevitable given the near exhaustion of the effectiveness of #centralbanks' exceptional measures to stimulate the #economy, #ECB President Mario #Draghi is coming across as rather defensive, repeatedly having to refer back to his carefully-crafted written remarks.

— Mohamed A. El-Erian (@elerianm) April 10, 2019
"No-deal Brexit will tip UK and EU into recession, IMF warns," says a headline at Sky News.
"The Washington-based institution said gross domestic product (GDP) in the 19-nation single currency [Eurozone] area should grow by just 1.3% this year, after 1.8% in 2018,"
adds RTE in Ireland
, "as powerhouse Germany sputters while Italy looks set to miss out on growth altogether."
"Italy's debt, a structural mountain that mortgages the future, will grow to 132.8% in 2019," reports Il Sole 24 Ore, quoting the left-right coalition government's new EU deficit-rule busting budget.
Netanyahu's Likud tied with Benny Gantz's [more centrist, pro-talks with the Palestinian Authority] Kahol Lavan party with 35 seats each. Both leaders made victory speeches after the exit polls, vowing to be 'everyone's prime minister'."