Trump Impeachment Leaves Gold Price Flat, Unchanged for 6 Weeks in Euros, as China Boosts Liquidity, UK Pound Erases 'Boris Bounce'
Thursday, 12/19/2019 14:21
GOLD PRICES held unchanged again on Thursday as world stock markets retreated from this week's new record highs following last night's impeachment of Donald Trump by the US House of Congress.
Trading at $1477 per ounce – the highest weekly close in 6 when reached last Friday – gold prices rose for UK buyers as the now dominant Conservative Party outlined its 2020 agenda to what Prime Minister Boris Johnson called
"the people's parliament"
after winning a fourth successive election.
Priced in the single Euro currency however, gold bullion has now stayed static for 6 weeks running, trading in the middle of its €1320-1330 range yet again Thursday.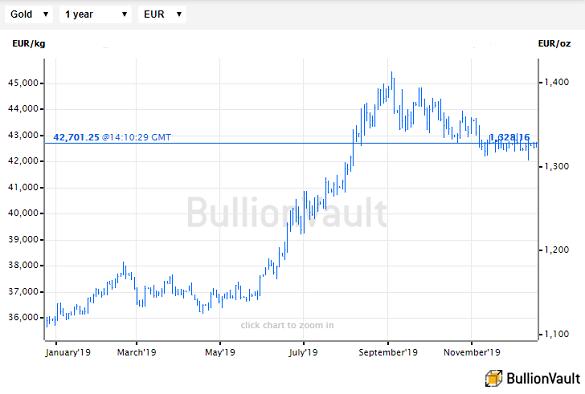 "The entire House of Congress voted along party lines,"
notes Fox News
of yesterday's outcome following heated and fractious debate.
Trump's impeachment now moves to trial in the Senate, where Republicans outnumber Democrats 53 to 45, with 2 independents.
— Donald J. Trump (@realDonaldTrump) December 19, 2019
"Gold remains largely rangebound as the Phase One agreement has raised risk appetite," says the latest note from Rhona O'Connell at brokerage
INTL FCStone
, looking at this week's US-China deal to suspend new tariffs on each other's imports.
But with the People's Bank of China yesterday cutting its borrowing charge for 14-day loans after surprising analysts in November by cutting its 7-day rate, "some support [for gold prices] should come from concerns over Chinese liquidity," O'Connell says.
"The PBOC will continue to pay close attention to liquidity conditions and flexibly conduct open market operations," Beijing's central bank said in a statement.
Commodities trading house Tewoo – owned by the local government of north-eastern city Tianjin – missed debt repayments last week, marking China's biggest Dollar-bond default in 2 decades.
"Beijing will increasingly
not offer bailouts
to its state-owned enterprises," analysts tell CNBC, "but rather let its distressed companies rely on markets-based solutions."
But that policy
risks a "chain reaction" of plunging confidence
says Ma Jun, an external adviser to the PBoC, urging more stable local-government financing vehicles (LGFVs) to step in and rescue failing corporations elsewhere in the country.
Meantime in New York, large bank demand for short-term liquidity loans from the Federal Reserve have "waned considerably" this week, says the Wall Street Journal, easing fears of another "credit crunch" in the vital repo market for overnight interbank credit.
"My modal call at this point is probably for a relatively tame year-end," says NatWest Capital Markets' strategist Blake Gwinn,"but as long as dealer balance sheets remain tight...I think investors should be wary as
a repo spike could still materialize
," with interest rates in the open market again jumping above the Fed's official target as borrowers struggle to raise finance.
UK gold prices meantime rose to touch £1130 once more – an 8-year high when reached in June, but still 11.8% below September's new all-time peak – as the re-elected Conservative Party, now led by Brexiteer Boris Johnson and with its largest majority in the House of Commons since Margaret Thatcher's 1987 victory, set out its 2020 agenda in Parliament.
With Johnson vowing to 'get Brexit done' next month, before negotiating a full trade deal by end-2020 –
"extremely challenging"
according to European Union president Ursula von der Leyen –
the Queen's speech today
moved to abolish the Department for Exiting the EU, enable UK judges to ignore rulings made by EU courts, bring in a 'points-based' immigration system, and boost spending on the NHS at the same time as cutting local tax rates for small businesses.
The Pound fell for the 5th day running on the currency market, losing 5 cents from last Friday morning's election-result peak at 18-month highs against the Dollar, and also falling to 2-week lows against the Euro.