Gold Prices Dead-Flat Ahead of the Fed, But 2020 Volatility Bets Jump
Wednesday, 12/11/2019 13:42
GOLD PRICES sat in a tight $5 range Wednesday morning in London, trading unchanged ahead of today's December decision from the US Federal Reserve but with betting on 2020 volatility surging across bullion, equity and interest-rate markets.
As gold stuck at $1465 per ounce, the US Dollar also held tight on the FX market, trading in the middle of the last week's range against the Euro.
That kept the gold price for French, German and Italian investors at €1323 per ounce, also barely changed for the week so far, as European stock markets ticked higher together with major government bond prices.
Today's Federal Reserve decision will be followed Thursday by the first European Central Bank meeting and press conference chaired by ex-IMF director Christine Lagarde.
After restarting QE and now charging 0.5% per year on commercial banks' cash deposits under former boss Mario Draghi, "Any sign of a shift in [ECB] policy at Thursday's central bank gathering
could move markets
," says the
Financial Times
.
"The Federal Open Market Committee will [meantime] update its dot-plot [economic forecasts], so that will be closely watched," says spread-betting bookmaker Oanda's Jeffrey Halley of today's US decision.
"If they provide a more dovish outlook, that would potentially weaken the Dollar, which will be positive for gold."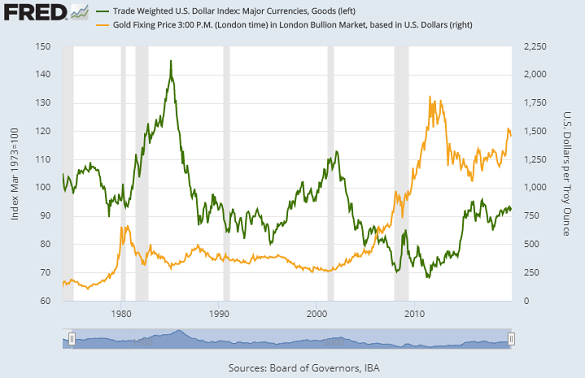 Forty-nine in every 50 bets on today's Fed decision foresees no change from the current interest-rate ceiling of 1.75%,
according to data from the CME
derivatives exchange.
But betting on the Fed's 2020 policy has seen huge volatility over the last month, with the proportion of contracts backing "no change" from current levels by December next year plunging from 52% to 32% a week ago, only to reach 42% today.
Looking at the US stockmarket for 2020, "Downside protection in S&P is [priced] extremely rich, while upside sees little to no interest," says Japanese financial group Nomura's equity derivatives strategist Charlie McElligott."
"To hedge out past the [US] election, the price of downside puts relative to upside calls is literally pricing an election apocalypse," agrees brokerage BTIG's strategist Julian Emanuel, also looking at the record-wide gap in S&P option contracts for December next year.
Meantime in Comex options, bullish bets that the gold price will trade higher than $1465 this time next year currently outnumber bearish bets nearly 16-to-1.
One-third of all bullish gold bets for December 2020 see prices at the round figures of either $2000 or $3000 per ounce.
"The left, the right and the center
are all worried
about highly unstable [US] electoral outcomes," says BTIG's Emanuel.
Ahead of Thursday's UK General Election, Sterling today slipped half-a-cent from last night's new 9-month high above $1.32 – rallying by more than one-tenth from September's drop near the lowest since 1984 – as the last
UK opinion polls
ranged from a solid Conservative majority through to a hung parliament.