Gold Prices Drop Thru' 2017 Uptrend, Bitcoin +1456% as 'Unseen' China Risks Build
Thursday, 12/07/2017 14:16
GOLD PRICES cut this year's gain below 9% for US Dollar investors in London trade Thursday morning, dropping to new 4-month lows beneath $1255 per ounce as crypto-currency Bitcoin surged past $15,000 for a 2017 gain of 1,456%.
Commodities today slipped overall after Wall Street stock markets closed lower overnight for the fourth session running from last week's new record highs.
Protests meantime continued over President Trump's decision to relocate the US Embassy from Tel Aviv to the Israeli capital, Jerusalem, with fundamentalist Palestinian group Hamas
calling for a new intifada
on what it deemed a "declaration of war".
"While we stand back, aghast at the complacency in Western financial markets," says investment strategist Albert Edwards at French bank Societe Generale, "it may be China that is re-emerging, almost unnoticed, as an issue."
Predicting that, as history shows, whatever triggers a crash in global markets will "highly likely be something that investors are not currently worrying about," Edwards notes the doubling of new credit issued in China this year.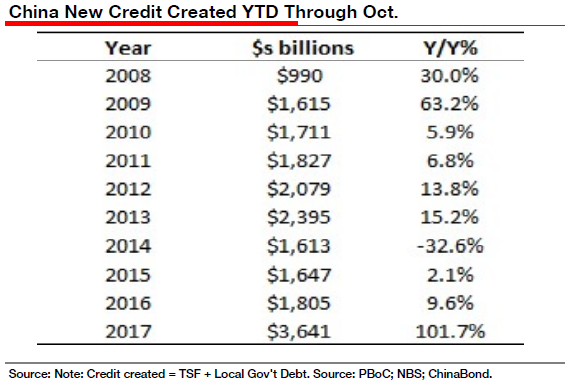 "Financial deleveraging is poised to pick up soon," reckons Edwards' colleague at SocGen Wei Yao.
Moreover, Edwards adds, "It seems the level of credit necessary to stimulate growth in China could prove elusive at this point," quoting Gordon Johnson of Axiom Capital.
Had anyone forecast a doubling of new credit issuance in China for 2017, Johnson says, "we would have expected all economic indicators in China to be moving substantially higher."
"China is still the big swing factor in commodity markets," says a report on Bloomberg, "and metals traders are starting to price the possibility that slower growth will mean less demand."
A survey of economists forecasts that China's infrastructure investment will grow only 12% in 2018, the newswire says, slowing from nearly 20% annual growth in 2017 to date.
New data from the People's Bank of China said today that it kept the nation's official gold reserves
unchanged for the 13th month in succession
in November, maintaining a holding of 1824 tonnes even as overall foreign exchange reserves grew for the 10th month running to a 1-year high near $3.2 trillion.
Friday should bring the latest China import and export data.
Tomorrow will also bring the latest official estimate of US jobs growth and wages.
"The [Fed's December] rate hike is now looming," notes David Govett at precious metals and commodities trading house Marex Spectron in London.
"People [trading futures contracts] are suddenly realizing that gold may not be the most attractive long position at the moment. [But] people's memories are short."
With Bitcoin surging 50% from this time last month Thursday morning, "Gold failed to hold above $1267/60," says the latest technical analysis from SocGen, pointing to "the confluence of the trend line drawn from December 2016, the 200-day Moving Average and the 61.8% retracement of the up move from last July's low."
Gold prices are now "heading for the next retracement level...at $1245/39," says SocGen's technical team, "where a pause should take place."
"On the down side," says Swiss refining and finance group MKS Pamp's Asian trading desk, "key support is between $1261-1257."
With the gold price's low point from October now broken, "support remains...[at] $1240.90," says the New York technical analysis from bullion bank Scotia Mocatta.
The US Dollar meantime extended its rally on the currency markets Thursday, pushing the Euro down towards 2-week lows beneath $1.18.
That still left gold prices for Euro investors below €1065 per ounce, on track for a 3% drop in 2017.
The British Pound bounced hard from a sudden 1-week low as rumors said the UK Government is ready to make a new proposal to avoid a "hard border" between Northern Ireland the Irish Republic following March 2019's Brexit from the European Union.