Gold Prices Sink on US Jobs Beat, China Trade Offer, Trump's 'Record' Stock Market
Friday, 12/06/2019 14:31
GOLD PRICES sank Friday lunchtime in London, erasing the week's earlier gains as China offered the United States an "olive branch" in trade talks, and new US jobs data blew past analyst forecasts with the strongest growth since New Year.
Contrary to the private-sector ADP report for November – which missed analyst forecasts by more than half on Wednesday – today's
US jobs estimate
from the Bureau of Labor Statistics put last month's growth in non-farm payrolls way ahead of the 180,000 consensus outlook at 266,000.
Even as Democrat politicians led by Nancy
Pelosi moved to impeach the President
, Donald Trump, Wall Street equity futures jumped and global stock markets trimmed their earlier weekly loss of 0.7%.
Major government bond prices in contrast tumbled with gold prices, driving 10-year US Treasury yields up to their highest in 3 weeks at 1.85% per annum.
Stock Markets Up Record Numbers. For this year alone, Dow up 18.65%, S&P up 24.36%, Nasdaq Composite up 29.17%. "It's the economy, stupid."

— Donald J. Trump (@realDonaldTrump) December 6, 2019
Nearly two-in-five Americans meantime feel a "strong" benefit from the stock market's gains,
says a poll
for the
Financial Times
and the Peter G.Peterson Foundation, the same proportion as correctly said that equities have risen in 2019.
Another two-fifths thought the stock market remains "about the same", while the final fifth thought equities have fallen this year.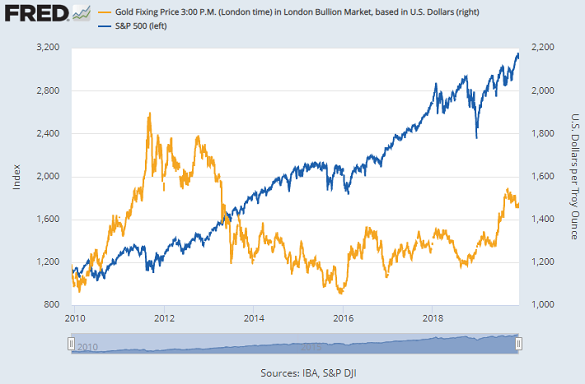 Gold priced in the Dollar sank to $1463 per ounce as the US currency jumped on the jobs news, down over $20 from this Tuesday's 4-week high and showing no change from last Friday's finish.
"It's
completely different from earlier in the year
when gold was absolutely the star," says one spread-betting bookmaker to Reuters, adding that only a breakdown in US-China trade talks will boost gold prices into year's end.
Ahead of US President Trump's 15 December deadline for a new trade deal or extra tariffs on Chinese goods, Beijing said Friday it
will exempt some US soybeans and pork
products from import tariffs, without giving specifics.
"The absence of a strong narrative affects momentum traders," says French investment bank BNP Paribas in a note on gold prices, "and that category has started to leave the market, albeit at a slow pace.
"At this stage, 2.6 million ounces of gold-backed ETFs seem to be close to par and at the mercy of further dishoarding if the gold price does not respond better."
Those 90 tonnes of gold – part of th 2,867 tonnes needed to back the value of gold-tracking funds such as the giant SPDR Trust (NYSEArca: GLD) – would equate to around 10 days of global mining supply.
The
UK gold price in Pounds per ounce
also tumbled Friday, falling to fresh 5-month lows at £1113 per ounce ahead of next week's UK General Election and likely January Brexit from the European Union should poll-leader Boris Johnson's Conservative Party win.
Gold prices meantime headed for their lowest weekly close for 4 months in Euros, down at €1320.
Silver also fell hard, down to $16.72 for US Dollar investors to near its weakest since mid-August, but platinum held little changed at $890 per ounce.