Gold Prices 'Find Base' But Markets' Narrative 'Shifted from Recession' as White House Talks Up China Trade Hopes
Friday, 11/15/2019 14:13
GOLD PRICES fell over $10 per ounce from yesterday's 1-week high on Friday, but held on track for a small weekly rise in Dollars as global stock markets rose for the first time in 3 sessions on revived hopes that a US-China trade deal may be close.
"The mood music is pretty good," said White House advisor Larry Kudlow last night, rowing back from this week's more aggressive
comments from President Trump
.
With gold prices holding at $1465 – some $20 above Tuesday's 3-month lows – "Dare I say we may have found a base around $1445-50," suggests a trading note from Swiss refining and finance group MKS Pamp.
"However, the metal is likely to remain range-bound over the near-term."
Gold prices in Shanghai fixed Friday afternoon at their lowest weekly close since the start of August, pulling the cost to buyers in China – the metal's No.1 consumer market – 7.7% below September's 7-year peak in Chinese Yuan.
"The narrative has shifted from 'recession or no recession' to 'no recession or cyclical upturn'," says a note from Canada's bullion-trading Scotiabank, putting gold under pressure after the summer's surge.
Gold was actively included in July-to-September's "recession basket" says Scotia, "alongside US Treasuries and other FX havens such as [the Japanese Yen], both as a trade [war] and monetary policy hedge.
"These 'recession trades' became undeniably overcrowded, aligned with peak recession fears," Scotia's strategist Nicky Shiels goes on.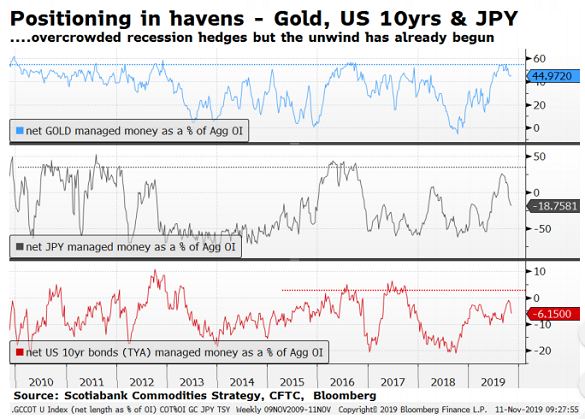 A further sell-off from summer 2019's investors "is contingent on the whether there's a believable phase one trade deal," Scotia concludes.
"What's weighing on gold," counters Australasian bank ANZ's analyst Daniel Hynes "is the hawkish stance from the Fed saying rate cuts are on hold for now.
"[But] in the long term, the backdrop is pretty conducive. With global central banks being accommodative, gold will get support."
European banking shares fell meantime Friday, despite a rise in broader equity markets, after Germany's finance minister Olaf Scholz said
a banking union agreement in Europe
– planned since 2012 to put financial supervision under a single regime, rather than national regulators – could happen as soon as next month.
Here in the UK, major telecoms stocks fell hard after the opposition Labour Party said it will nationalize part of quasi-monopoly BT and
provide free super-fast broadband
to every home in the nation if it wins next month's snap 'Brexit' election.
BT said the plan would cost 5 times Labour's estimate.
Ruling Conservative Prime Minister Boris Johnson today called Labour's economic program – now including a 4-day working week as well as renationalization of key utilities, but without a firm stance either way on Brexit – "absolutely terrifying...truly scary, disastrous for this country."
Free internet access, says Labour, would save "the average person" over £360 per year ($465 or €420) – some 1.2% of average income.