Gold Prices Rise as US Fed's Rate-Cut Outlook 'Overlooks Consumers' Caution'
Thursday, 10/31/2019 14:29
GOLD PRICES rose to new highs for this week against a falling Dollar on Thursday, touching $1511 per ounce as world stock markets slipped after the US Federal Reserve cut its key interest rate for the third time in 4 months but said it will now pause, as widely expected.
Major government bond yields fell hard as their prices rose, pushing 10-year US Treasury rates to their lowest in 3 weeks at 1.72% per annum.
The gold price in Euros meantime regained all of this week's prior 1.0% drop, trading back at €1357, as German, French and Dutch bond yields fell to become the most negative – costing investors money – since last Friday.
Yesterday's US economic data said Q3 GDP growth was stronger than analysts expected at 1.9% per year, while October's net jobs growth also beat Wall Street forecasts on the private-sector ADP estimate.
"Business fixed investment and exports remain weak," noted the world's most important central bank in
the statement accompanying
yesterday's Fed rate cut, "[but] household spending has been rising at a strong pace...job gains have been solid...and the unemployment rate has remained low."
This apparent resilience of US consumers "must be a subject for debate," counters Rhona O'Connell at
brokerage INTL FC Stone
in her Halloween precious metals report, telling clients that US personal incomes, spending and inflation on the PCE measure are now "one of the key elements to follow in the coming weeks and months.
"[Because] certainly, if gold jewelry purchases this year are anything to go by, US consumers are already cautious."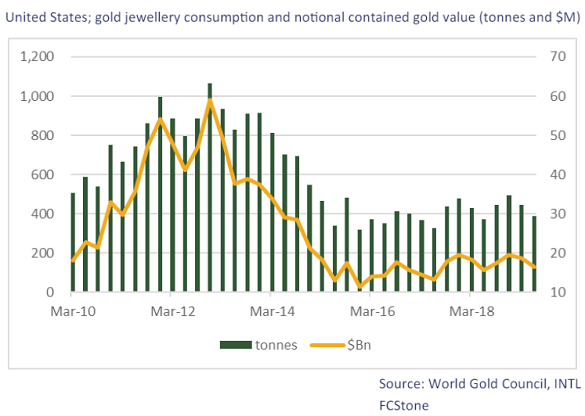 With Beijing today warning that a US trade deal doesn't look close as it pushes to
expand Asia's free-trade pact
at the Asean summit in Bangkok, China's official data agency said Thursday that the world's No.2 economy saw manufacturing activity shrink faster than analysts expected in October.
"Quiet pricing as gold holds onto the post-FOMC gains," said the Asian trading desk of Swiss refiners MKS Pamp overnight, pointing to a weak $5 per ounce premium for bullion landed in China – the No.1 gold consumer nation – over London quotes.
Nearly 3.5 years after the UK's narrow referendum victory for Brexit meantime, the UK today saw the start of a General Election campaign instead of leaving the European Union on Halloween as scheduled and promised by Prime Minister Boris Johnson.
With the 12th December vote called to try and resolve Brexit, "Ideally, the main [UK] political parties would spell out the consequences [of leaving the EU]," says an opinion column in The Irish Times, "along with their plans to proceed and what these would mean.
"Ain't that the truth," says long-time Brexit advocate Richard North on his blog. "Already we can see where the land lies [after]
the rhetoric quickly turned
to the NHS."
Vowing to hold a referendum and "
get Brexit sorted within 6 months
" today if his Labour Party wins, "What the elite are actually afraid of is paying their taxes," said opposition leader Jeremy Corbyn.
"So in this election, they'll fight harder and dirtier than ever before...[because] we're going after the tax dodgers, the dodgy landlords, the bad bosses, the big polluters."
The
UK gold price in Pounds per ounce today
rallied within £5 of last weekend's £1173 level as the FTSE 100 index of mostly international companies slipped another 1.0% to trade some 6% below New Year's 2018's all-time record high.