Gold Prices 'Capped at $1500' Ahead of Mario Draghi's Final ECB Meeting
Wednesday, 10/23/2019 13:49
GOLD PRICES rallied against all major currencies on Wednesday, edging above last week's finish for Dollar investors at $1490 as Asian equities rose again but Europe slipped ahead of tomorrow's ECB decision on QE and negative rates.
New York's S&P500 index last night lost the 3,000 mark after reclaiming what was a new record this July for the 1st time in a month.
Silver and platinum held steady, bucking a wider drop in commodities, as major government bond prices rallied with gold prices, edging longer-term interest rates down.
The yield offered to investors by 10-year US Treasurys fell near 3-week lows at 1.73%, while German Bund yields fell to -0.41%, edging back from their highest in 3 months but still much less negative than this summer's record cost to bondholders of 0.70% per annum.
No significant economic data were scheduled for release Wednesday.
Thursday brings first-flash manufacturing surveys for October – expected to show continued contraction in activity in Japan and the 19-nation Eurozone – followed by the final European Central Bank decision under
Mario 'Whatever It Takes' Draghi
before former French finance minister and head of the IMF Christine Lagarde takes over.
Draghi's term at the ECB in Frankfurt has seen the formerly cautious central bank try quantitative easing, cost-free loans and negative interest rates as a way of boosting borrowing, spending, economic growth and inflation.
None of those factors has so far responded, but unemployment has fallen to 11-year lows of 7.4% for the currency union's 330 million citizens, down from above 12% at the height of the post-banking crisis Greek debt crisis.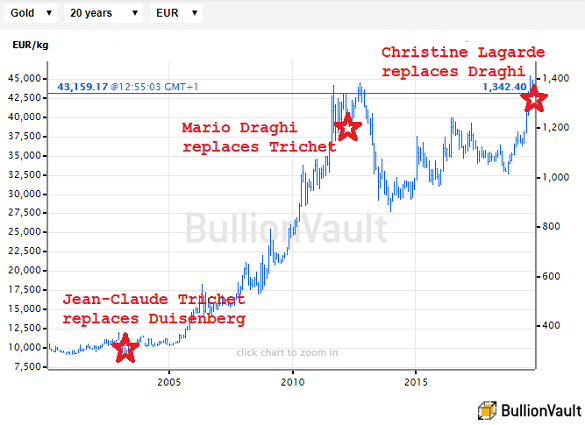 Gold priced in Euros today rose to €1344 per ounce, up 1.2% from Tuesday's 10-week low but still 5.0% below start-September's fresh record high.
"The recent price action has seen selling across the curve," says Swiss refiner MKS Pamp's Asian desk, pointing to a drop in bullish bets for future settlement on the derivatives market.
"Although the geopolitical and trade headwinds prevail, we are seeing bullion struggle to build further top-side momentum," the note goes on, pegging "supportive interest" around $1480 with resistance around $1495-1500 now "weighing upon any top-side moves."
The British Pound meantime sank Wednesday, down 1.5 cents from this week's new 5-month high against the Dollar, after UK Prime Minister Boris Johnson lost a vote in Parliament, blocking the way to his Brexit deal with the European Union taking effect on Halloween.
Also blocked from "crashing out" with no deal next week, Johnson today met his Labour Party opponent Jeremy Corbyn to discuss "a way forward" – possibly meaning a General Election – as EU leaders met to discuss his formal request for an extension of the UK's membership to January.
Over in India – now the second largest gold consumer nation after China – next week's start to the key Hindu festival of Diwali has seen "buyers rushing to the market to purchase precious metals" claims a video on Yahoo.
But with Rupee gold prices near this summer's fresh all-time highs, plus 12.5% import duty and 3% goods and services tax, "jewellers and bullion traders suggest that while sales did improve [recently], overall
volumes remain at least 50% lower
than what they were last year" says the
Times of India
.