Gold Prices Cut Week's Drop as China Hits US with Import Tariffs Ahead of Powell's Jackson Hole Speech
Friday, 8/23/2019 14:49
GOLD PRICES rose sharply Friday lunchtime in London as caution ahead of a key speech from US Fed chairman Jerome Powell was hit by news China will apply a 5% trade tariff on imports of US crude oil from 1 September.
Speaking at the annual Jackson Hole central banking conference, Powell is expected to discuss the outlook for US interest-rate and QE policy after moving to cut rates for the first time in a decade last month.
Asian stock markets had earlier risen but Western equities slipped as the Chinese news broke ahead of Powell's speech, trimming this week's gain to 1.0% on the EuroStoxx 600 index.
Gold priced in the Dollar regained half this week's previous 1.5% loss, rising to $1504 per ounce but holding below the highest Friday finish in 7 years.
Betting on US interest-rate futures now sees a 49% of two Fed cuts by New Year, up from 38% this time a month ago.
Betting on 3 rate cuts by January has almost doubled to 32% of the market, according to derivatives exchange the
CME's FedWatch tool
.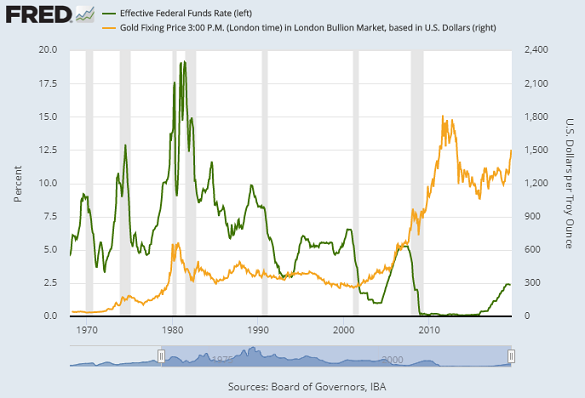 With household
gold demand in India already crushed
by the seasonal summer lull, rising taxes and rising global quotes, gold prices today set fresh record highs in the No.2 consumer nation for the 4th day running,
LiveMint reports
, adding more than 20% from New Year to come within 5 Rupees of ₹39,000 per 10 grams.
Shanghai premiums meantime held around $12 per ounce on Friday, some 60% above the typical
incentive for shipping new metal
into today's No.1 consumer nation as Beijing reportedly "partially lifted restrictions on imports" after blocking new inflows to try and stem outflows of foreign currency to help support the falling Chinese Yuan.
"Volume is very light," said Friday morning's Asian trading note from Swiss refining and finance group MKS Pamp, "with gold and silver both slowly drifting off on very low turnover.
"Jackson Hole will be important...[because] any hawkish rhetoric from Powell is likely to push gold down to $1480-85 support, and then potentially open the gate for a retracement down to $1450."
Over in Hong Kong, many accountancy staff joined thousands of other professionals in a lunchtime march Friday,
expressing how "very concerned"
they are over China's response to pro-democracy protests in the city and contradicting public statements from the 'big four's local management saying that
Deloitte, EY, KPMG and PwC support Beijing
and oppose "any action and statement that challenge national sovereignty."
With Hong Kong police now
prosecuting supposed gangsters
involved in attacking protesters this time last month, union leaders representing airline staff meantime called on Cathay Pacific to end "white terror" – meaning anonymous acts aimed at creating fear – after one pro-democracy protestor was dismissed by the company in a "blatant act of suppression".
China's claim that a British consulate worker still detained on the mainland had visited a prositute was
rejected today as "made up"
by his family.
The city's Hang Seng stock index meantime ended Friday 3.6% above last week's new 2019 low.
British Pounds today held near yesterday's 3-week highs to the Dollar, reached as UK newspapers cheered the 30-day deadline for solving the Irish backstop
apparently given by Germany's Chancellor Merkel
and France's President Macron to new UK Prime Minister Johnson.
That helped curb the gold price in Sterling at £1230 per ounce, down 3.2% from last week's new all-time record high.
Euro gold came close to recovering this week's drop, trading up to €1360 and holding less than 1.8% below September 2012's all-time peak.