Gold Prices Jump on China Slowdown and US-Iran Tensions, Speculators 'Long' of Derivatives, Euro Gold ETFs Shrink
Friday, 6/14/2019 14:14
GOLD PRICES retreated $10 per ounce from new 14-month highs in London on Friday after jumping sharply as new data from China showed the world's No.2 economy slowing sharply.
Crude oil prices stalled 3.0% above Wednesday's 19-week low despite fresh US-Iran tensions over yesterday's explosions on two oil tankers near the key Strait of Hormuz.
World stock markets slipped as China's main share index lost 0.8%.
Priced in Dollars, gold hit new 14-month highs above $1358 as major government bond prices also jumped, pushing US Treasury yields back towards this week's
21-month lows
at 2.07% per annum.
So-called 'core' inflation in
US consumer prices
, excluding food and energy, came in at 2.0% annualized for May.
Gold then retreated to $1348 after US retail sales data crept ahead of analyst forecasts for May, but the metal held at its highest in Euro terms since April 2017 above €1200 per ounce.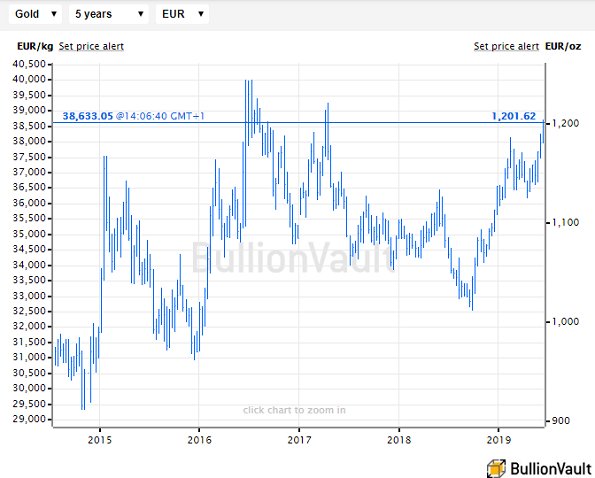 "The Chinese data was disappointing, especially the industrial output numbers," Reuters quotes Daiwa brokerage economist Chris Scicluna.
"That's given bond markets additional momentum."
Retail sales in China rose sharply in May, but below analyst forecasts, while fixed-asset investment slowed towards last autumn's multi-decade lows.
Industrial output across the world's No.2 economy showed its slowest growth since 2002 at 5.0% per year.
Shanghai gold prices rose to new 6-year highs at ¥305 per gram following the release of Friday's new data.
With the Yuan little changed on the FX market, that pulled the premium for gold landed in China over London quotes up to $16 per ounce, almost twice the average incentive for new gold imports into the metal's No.1 consumer nation.
Washington meantime
released a video overnight
claiming to show a boat from Iran's Revolutionary Guard "removing an unexploded mine" from a Japanese oil tanker previously hit by what the crew called "flying objects" in the Gulf of Oman on Thursday.
"I do not see Trump as
worthy of any message exchange
," said Ian's Supreme Leader Ali Khamenei, meeting today with Shinzo Abe in Tehran, where Japan's Prime Minister has flown in a bid to calm tensions.
"Gold [has] continued its upward march...following Tuesday's flush of weak longs," says the latest Asian trading note from Swiss refiners and finance group MKS Pamp.
"Interest has been piqued due to heightened expectations of Fed policy easing, ongoing trade jitters and a rapidly falling bond yield."
"I am
certainly long gold
," said Jeff Gundlach of the $130bn Doubleline investment fund – known for using leveraged derivatives to speculate on bond-market prices – on Thursday.
Trading volumes in Comex gold futures and options
were subdued Thursday
near their lowest levels of the last month.
But seeing the heaviest overnight volume in Comex gold futures, August 2019 contracts rose 1.0% to forecast gold at $1358 in 2 months' time, according to data from the CME derivatives exchange.
The price of bullish call options betting that December 2019 will see gold at $1400 or more jumped nearly 30%, while the cost of betting on $1500 by year-end rose by one-third.
Physically-backed trust funds held little changed in size yet again Thursday, keeping the biggest such
gold ETF
– the SPDR Gold Trust (NYSEArca: GLD) – at its largest since the end of May while volume in the New York-listed product was 20% below recent averages.
The last time gold prices traded above $1350 per ounce, the GLD was 13% larger than it closed Thursday night.
When gold has previously traded $5 either side of $1350, the GLD has been large enough to need 1,018 tonnes of backing on average. Last night it closed needing less than 760.
While bullion-market gold prices rose by 2.8% from end-May to Thursday's close in New York, the 5 largest US-listed gold ETFs expanded by just 1.4% so far this month, needing 1,152.5 tonnes of bullion to back their combined shares in issue.
That was a 5-month low when reached in April.
Europe's 5 largest gold ETFs – led by the Xetra-Gold product – have meantime shrunk by 0.3% from end-May's new all-time record, needing 668.7 tonnes to back their value in total.
Gold priced in the British Pound today hit its highest level since March 2013 at £1071 per ounce, beating the 2016 Brexit referendum peak as the UK's ruling Conservative Party moved towards choosing ex-foreign secretary Boris Johnson as leader and therefore Prime Minister.