Gold Prices Lowest Since Late-Jan as Bond Yields Rise with Equities
Tuesday, 4/16/2019 13:57
GOLD PRICES fell near 12-week lows against the Dollar in London on Tuesday and hit their lowest for Euro investors since 25 January as world stock markets rose again and interest rates pushed higher in the bond market.
Trading down to $1283 per ounce, gold prices fell to €1132 in terms of the 19-nation single currency – down some 4.5% from February's 22-month peak – as the EuroStoxx 600 index of equities rose to new 7-month highs.
Germany's 10-year Bund yield meantime held above 0% for the 3rd session running, the longest such stretch of offering positive returns to new buyers since mid-March.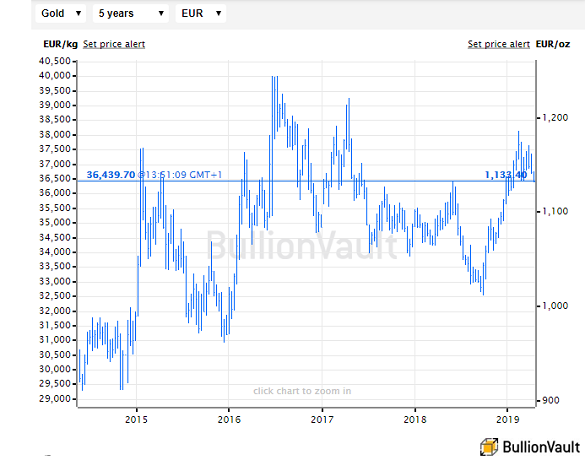 Following last month's
yield curve inversion
on US government bonds, rates on all maturities of US Treasury debt rose to 4-week highs Tuesday morning.
But rates offered by short-term debt maturing in the next year or sooner still held above 2-year, 3-year and 5-year yields.
Betting that the Fed will cut its key interest rate before or at its January 2020 meeting has now slipped back to 43% of speculative positions in US interest-rate futures, according to data from the CME derivatives exchange – its lowest level in almost a month and down from 79% at end-March.
"Even with the recovery in equity prices and nominal bond yields over the last few weeks, real or inflation-adjusted yields remain extremely low," says Eric Robertson, global head in New York of FX, rates and credit research at Asia-focused bank Standard Chartered, speaking to Bloomberg.
"That historically is a [good] indicator for gold...[and] we think the environment is extremely attractive for building long gold positions here.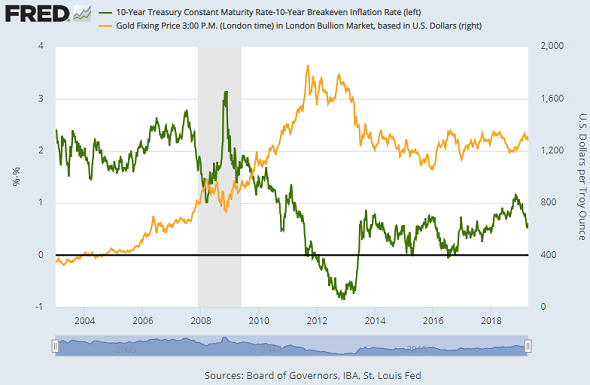 Adjusted for inflation expectations, 10-year US Treasury yields hit 1.16% last November, the highest real rate of interest since Feb' 2011.
Last week that rate rallied to 0.61% after hitting a 13-month low at end-March of 0.53%.
With data available from 2003, gold and real US rates have moved in the opposite direction to each other 54.8% of the time week-to-week, 64.0% of the time from month to month, and 66.4% of the time across all 1-year periods.
"Our expectation is that risk assets have probably seen the better part of their growth for now. So we are very constructive on gold within our strategy teams."
UK gold prices in Pounds per ounce
meantime fell Tuesday back below £980, reflecting continued strength in Sterling despite senior US politician Nancy
Pelosi warning overnight
that a post-Brexit US-UK trade deal is "not a given...[especially] if there were any weakening of the Good Friday accords [of 1999 which] ended 700 years of conflict" on the island of Ireland.
New data today said the UK jobless rate held last month at 3.9%, the lowest since 1975, with "employment growth [now]
pushing up average wage growth
" to 3.5% per year.