Gold Price Firm vs. Weak Dollar But Hits 5-Month Low in UK Pounds as Tory Win 'Baked In'
Thursday, 12/05/2019 15:17
GOLD PRICES held unchanged against a falling US Dollar in London trade Thursday, keeping a $15 gain for the week so far but taking the metal down to multi-month lows for UK investors as world stock markets rose together with longer-term interest rates.
The yield offered to investors by 10-year Japanese government bonds rose near its least negative since April, costing new buyers 0.03% per annum against August's record 0.28%, after Tokyo unveiled its first fiscal stimulus package in 3 years, vowing to spend ¥26 trillion ($239 billion) to "
overcome economic downside risks
" according to Prime Minister Shinzo Abe.
With 1 week to go until the UK's snap General Election – and with the current Conservative government of Boris Johnson vowing that its first 100 days after victory will bring tax cuts and higher spending on health and schools – the
UK gold price in Pounds per ounce
slipped near 5-month lows at £1121, down by 12.4% from September's new all-time record high as Sterling hit its best in 31 months against the Euro plus a 7-month high against the Dollar.
Today's move still left gold for UK investors 16.1% higher from this time last year, on track for its highest-ever annual average at £1090 per ounce.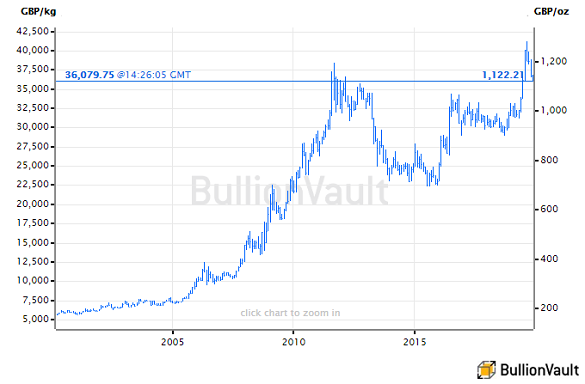 UK Prime Minister Boris Johnson yesterday denied he knew what Justin Trudeau was talking about when – in
footage of a conversation
they had with President Macron of France and the Netherlands' Mark Rutte at this week's 70th birthday events for the Nato alliance – he nodded and laughed as Canada's leader made comments about US President Donald Trump.
Calling Trudeau "two-faced" and then quitting the Nato summit early, "We will make a lot of progress," Trump added when asked about on-going US-China trade talks ahead of Washington's 15 December deadline for imposing yet more import tariffs.
"[But] China believes that if the two parties reach a 'Phase 1' deal," Beijing commerce spokesman Gao Feng told a press conference today, "[all] tariffs should be reduced accordingly" – a demand the US has yet to agree.
"With doubts emerging about US-China trade talks, we expect investor demand for safe-haven assets such as
gold-backed ETFs
to increase," say analysts at Australasian bank ANZ.
But Wednesday saw slight outflows from gold-tracking US trust funds, with the giant SPDR Gold Trust (NYSEArca: GLD) shrinking to its smallest since mid-September.
No.2 economy the 19-nation Eurozone saw Gross Domestic Product expand 1.2% per year in the third calendar quarter of 2019, new figures confirmed, but retail sales were weaker than expected in October while German factory orders fell 5.5% from the same month last year.
Euro gold prices today slipped to €1328 per ounce, unchanged for this week so far, while US Dollar investors saw the price hold a $15 rise from last Friday at $1478.
UK data today showed
a widening of wealth inequality
across the world's 5th largest economy as property prices in London and the south-east continue to outstrip the rest of the country.